A new report from the National Academy of Public Administration (NAPA) examines human capital challenges facing the Federal government, and lays out several recommendations to modernize the Federal workforce in 2021 that could be accomplished via executive order from the next presidential administration.
"The Federal government faces unprecedented workforce challenges that put agency missions – including national and homeland security – at risk," the report says. "When the public needs government to respond to a crisis, it is essential that government has the ongoing capability and capacity to respond to the crisis. After years of lamenting the problem and doing little to solve it, the next President must act. There truly is no time to wait."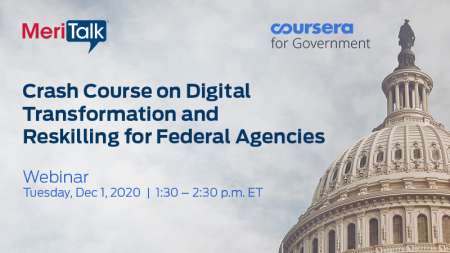 The Federal government, according to the report, faces challenges to maintaining its workforce as the nature of work changes with new technologies, and the government struggles to hire in younger people.
On that first point, the report says that while advances in artificial intelligence won't necessarily replace all jobs, it will fundamentally change how some are done. And on the second, the report states there are "twice as many employees over 60 years old as under 30" working in the Federal government, and because of that the government "faces a ticking time bomb that will create workforce issues for years to come."
NAPA identifies three steps on the road to reforming the workforce: First, to put mission first by focusing on what citizens want government to accomplish; Second, to rely on merit system principles; and Third, to create a system that serves the American people and is also accountable to the people elected to govern.
To develop a modern Federal civil service, the report makes three recommendations:
Recommendation 1
Build an interest in public service and government as career. Most Federal agencies almost exclusively advertise open positions on the Office of Personnel Management's (OPM) USAJobs recruiting website. While the website serves as a central source of Federal roles, "typical recent college graduates who are not considering a Federal position rarely see information regarding the types of Federal jobs, agencies, and current openings that encourage them to apply," the report says.
Recommendation 2
Be flexible with pay and job classifications as the Federal government uses pay scales and job classifications based upon a system that was designed in 1949. "In the 81 years since the 'General Schedule' job classification and pay system has been in place, the world of work has radically transformed," the report says, adding that the process can be simplified through regulatory changes, but will also require legislation for a true reengineering.
Recommendation 3
Make reforms to the hiring process by streamlining hiring authorities, simplifying applications, and involving hiring managers more in the process. Three administrative changes, without the need of Congress, can be and should be adopted in 2021, including: significantly expanding the use of streamlined hiring authorities; using modern assessment processes to identify high-quality candidates; and reducing the number of security clearance requirements.
To implement the recommendations made by NAPA, the report suggests that the administration in 2021 make it a priority to do the following:
Improve the quality of managers and supervisors in government. Hiring and promoting the right talent should be a priority to the next administration, along with deploying "better assessments for potential supervisors, training of candidates in the existing workforce before they are selected for formal supervisory positions, and expansion of OPM's leader training capabilities at OPM's exceptional Federal Executive Institute."
Identify talent management in government as a presidential priority. The administration in 2021 should issue an Executive Order (EO) on day one to direct maximum use of authority under existing law to develop the civil service. NAPA wrote a proposal for an EO that could be issued. The EO would advance "the restoration of honor and trust in the public service and our dedicated Federal workforce, begins the modernization of Federal workforce practices, and recognizes and
restores employees' procedural rights and protections."
Refocus OPM to place an emphasis on responsiveness and flexibility in talent management.
"Identify and implement modern assessment processes with the goal of eliminating applicant self-assessment questionnaires within one year."
"Reinvigorating the civil service is more than a good idea – it is essential for a healthy government," the report says. "Civil service reform is not going to be front page news, nor is it going to be the issue that will drive voters to the polls. It is, however, an absolute necessity if we are to have an effective, efficient, and equitable government."
Read More About