MeriTalk recently sat down with Gerald Caron, chief information officer (CIO) at the Commerce Department's International Trade Administration (ITA) component agency, to talk about how he's settling into his new post, and some key takeaways from his more than 20 years in Federal IT.
Caron was tapped to serve as ITA's CIO in late February, but before the recent move, he served as CIO and Assistant Inspector General for IT at the Department of Health and Human Services (HHS) Office of the Inspector General (OIG) for nearly two years.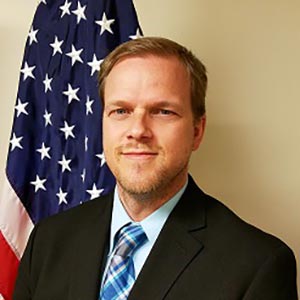 The lifelong civil servant said he is proud of the ladder he has climbed over the last two decades to get to where he is now in his career path. Not to mention, with several awards under his belt, Caron knows a thing or two about implementing zero trust (ZT) within the Federal government.
In the following interview – edited for length – Caron offers insights into his new position at ITA, some lessons learned during his leadership roles in Federal IT, and his plans to spearhead ZT at his new agency.
MeriTalk: Tell us a little bit about your technology path that has taken you to where you are now. Has tech always been a natural interest, or an acquired one?
Caron: I think a bit of both … I come from a small, one-industry, paper mill town, so in that sense IT was an interesting and different thing. I then went to college, learned more, and in the Army I learned various aspects of IT, and from there it grew into a more natural interest.
Technology has probably accelerated the most from my lifetime – remembering [I] have a stack of vinyl 45s of the latest hits, then cassettes, CDs, and now all music being digital and recommending things I might like based off my choices. Dial-up phones to wireless phones to cell phones [that] primarily make calls to smart phones which essentially have my life on them. To think how tech has evolved over my lifetime is pretty mind blowing, and with the thought of quantum computing, AI – with things like ChatGPT, which everyone is talking about – it is interesting to track how it continues to evolve.
MeriTalk: What are some projects you are currently working on at ITA that you are most excited about?
Caron: I am still getting settled in, and the OCIO Team has been great about briefing me in the various areas bit by bit of the great work they are doing. The ITA mission itself is something that I am looking forward to helping better support and enable through IT.
ITA is a global organization that assists businesses in other countries do business with the U.S., as well as help U.S. businesses compete in the global market. Hence, the need for information is vital from both aspects. The need to provide information, communication, and collaboration is something that is important in achieving that mission, and of course IT is important in enhancing the mission in various ways.
That means digital presence is important, updating legacy or leveraging new modernized technologies, and working towards being a data driven organization are all key areas, but doing so in a secure manner. There are some great modernization efforts of applications that support our ITA business unit partners underway that I see will greatly help enhance that going forward.
MeriTalk: As CIO, in what ways are you supporting ITA's mission to enhance the global competitiveness of the U.S. tech industry through expanding market access and increasing international sales?
Caron: Providing the right information to the various audiences that need it is very important. So, web presence and collaboration [and] communication is key. We want to focus on putting the right information needed – based on the request – at an end-user's fingertips without much hunting and pecking.
Using techniques like user-centered design in determining how people want to work and the different ways they think are key in the product you put out. For example, if I am a U.S. business looking to do business in a foreign country, what laws, requirements, regulations, and such things do I need to know to get started, points of contact, etc. Getting that type of information and being able to easily have a way to collaborate are important. A user shouldn't have to be IT savvy just to get the type of information they need.
MeriTalk: It is well known that you have been a leader for zero trust not only in your past roles, but also as the chair for the CIOs Council's E-Ops Committee for ZT, the chair for ATARC's ZT Working Group, and as a recent winner of GovCIO's ZT Advocate Flywheel Award. How are you continuing to be a leader for zero trust at ITA?
Caron: I will continue my emphasis, working groups, evangelism, and championing of zero trust. At the end of the day, and as a member of the Senior Executive Service, while I have a day job as a CIO for ITA, is to also to help better the Federal government as a whole, and zero trust is one of those ways – if pursued properly – that can help make organizations more effective at cybersecurity.
Here at ITA, while I have not yet kicked off the formal evaluation with the team of what functional capabilities are currently available to us with current investments or maturity in the various ZT pillars, that is something I intend to do very soon.
However, being completely in cloud and some of the technologies I have already been privy to with the various orientation briefings, there are certainly some things we can take advantage of with some modifications or slight changes, so I foresee a good path being able to blaze forward.
MeriTalk: What are some accomplishments you are most proud of during your two decades of service in Federal IT?
Caron: What I am most proud of in regard to my Federal career is the ladder I have climbed to get to where I am. Coming from a small town in northern Maine, and after a few years of college, I joined the U.S. Army as a computer programmer with my last duty station being the Pentagon.
The timing was ideal to be in D.C. and start my career in IT. My first job out of the Army was answering telephones on an IT help desk as a contractor and eventually transitioning to a government position supporting the help desk as a systems administrator, and from there [I] started my climb on every rung of that ladder to eventually become a [Senior Executive Service] at the Department of State.
After about 20 years at State, I felt it was time to try something new, and went to HHS OIG and after two years, came to ITA a few months ago. Why I bring up this journey: each and every rung of the ladder has taught me something along the way that I take with me.
My first job as a customer service help desk tech taught me a great appreciation for customer service that I still carry with me today. So, it has been a journey to reflect on and proud of where I have been and get to this point in my career.
MeriTalk: What is one lesson or key takeaway you've learned thus far during your two years in a CIO position?
Caron: There are many, but if we are only going to talk about one lesson or key takeaway then I would say it is the importance of effective communication. How many times I have seen a project failing or struggling just to find out that two parties are talking past each other or not listening to feedback.
I believe effective communication is extremely important to the success of an organization, office, or team. One of the things we did while at HHS OIG is we inventoried all forms of communications.
That inventory told us the ways we were currently communicating and good things we were doing, things we wanted to improve, and gaps of where we should focus communications. That, in turn, resulted in several things – like a bi-monthly CIO Newsletter to the organization to better show some of the work we were doing and inform, a rebranding to depict a mature and professional team, and it actually helped influence a culture change.
While in IT we are always trying to automate, people are still the most important asset to being able to accomplish these things, so it is important to have a two-way communication set up so they can raise ideas and have a voice. So, I think it is good to reflect on an organization's way of communicating in all ways and improvements can then end up in resulting in some positive outcomes to improving culture and better chances of success.
Read More About