Federal CIO Clare Martorana hinted at possible changes coming to Federal telework policy and the Office of Management and Budget's (OMB) Federal Data Strategy during an address today at ACT-IAC's Emerging Technology and Innovation virtual conference.
In her second major policy speech this month, the Federal CIO also offered expanded remarks on the importance of fostering innovation in Federal IT and making sure that all efforts eventually drive toward improving citizen service.
Telework Policy Crossroads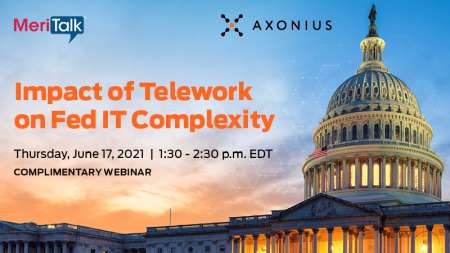 Asked today what lessons the government has learned about remote work and what advantages from that experience might be retained going forward, Martorana replied that there is "an incredibly collaborative" effort underway across government "related to the way we work."
"I think that you're going to see some evolution in the innovation in that space in the next couple of months," she said, without offering further details.
Martorana added, however, "I think the pandemic did highlight" agency CIOs "doing a pretty phenomenal job in making sure that they could pivot their workforce to almost entirely maximum telework."
"I think that that was really one of the greatest accomplishments" for Federal technology leaders, she said. "That was incredible. We learned a lot, we actually knocked down some barriers during that process. And I think that we will continue to go on the IT modernization path with that as kind of a guiding light for us."
Federal Data Strategy
Martorana more affirmatively forecasted an update to the Federal Data Strategy – originally issued in 2018 with multi-year goals for implementation – but didn't get into specifics about what the new strategy might entail. However, she indicated that the need for further data access and interoperability across agencies will come into play.
"The Federal Data Strategy is really critical," she said, adding, "we need to raise the bar for the entire government."
"So you will be seeing additional guidance coming out, and building upon much of the great work that was already taking place in government," she said, adding that government needs to break down current data silos and make data more interoperable.
Martorana continued, "We need to stay focused on privacy and security – that is an expectation that we all have as leaders in government, and that our customers expect. So, making data shareable, adopting common standards, and improving data management are just going to be mission-critical for many years to come."
She elaborated on her views about the strategy and its ability to push government IT forward by making more effective use of data. The strategy, along with related action plans, "continues to collectively raise the maturity bar for the whole of government," she said.
"As we look ahead, we know we need to enhance access to discoverable and usable data, and models that feed our artificial intelligence and machine learning development," she said. "Much of the data we have in government is siloed in systems, and is oftentimes not accessible, even across an agency, let alone across the entire Federal enterprise. We must continue to reduce these barriers, while still focusing on the privacy and security that our customers expect."
"We can make the most of government data by making it easily shareable, adopting common standards, and improving data management," she emphasized.
Collaboration Focus
Martorana also said that interoperability across government – particularly in the data arena – "is a vitally important one."
"Many agencies use collaboration tools to work well, but every day working across government, we see opportunities where we could increase efficiency and productivity if we have better interagency collaboration and simple things like document management [and] some common toolsets across government."
"I will continue to highlight the need for cross-governmental collaboration tools every chance I get," she pledged. "I often say to my team that email, while incredibly helpful, is not a high-functioning collaboration tool to support the sustainable culture of innovation."
And she emphasized the need "always to be learning" including through successes, mistakes, and "blameless post-mortems" of projects that went awry. "Those are important tools, as we work with our employees in within our environment to shift the culture, and to make it less fear-based" in support of innovation.
"We must be up to the challenge of overcoming resistance to change," she emphasized. "We can do this by using the basics of things like human-centered design, designing with our customers and not for them, listening to our customers, business partners, employees, and getting others engaged in new ways of doing things. There is no better way to break down silos than to bring people along on the journey."
Along those lines, Martorana also said she favors a "demos, not memos" approach to innovation.
"The challenge I want to present to this group today is to look at the successes we've had with technology and think about how we can quickly build off those successes and reinvent how we provide our services," she said. "What are the next digital services that need to be deployed? How do we use data to inform decision-making and long-term modernization initiatives? How do we continue to be transparent, safe, and secure in all the services we deliver to support our mission?"
Innovation Push
"The COVID 19 pandemic has had a tremendous impact on how we accomplish our agency missions and serve our customers, and the pandemic reinforces what many of us already knew, which is that government services are critical to our country," Martorana said.
While she said the pandemic forced change on the government with new demands to enable remote work and provide citizens services, it also showed "how fast we could push commercial technology solutions into production safely and securely."
"I saw multiple agencies partnering together and bureaucracy busting through cumbersome processes and procedures that are all possible when we work together as a Federal enterprise, on behalf of our customers," she said.
"The last year confirmed that across government, we can pivot and innovate rapidly, [and] we can accomplish things in days versus weeks, months or years," she said. "We all know that we certainly work in a complex operating environment, funding and procurement are complex. In many cases, we also work in complex legacy technical environments. So it is vitally important that we take the victories and successes in the past year and learn from them."
"It's also critically important that we examine our failures, and especially learn and share lessons from those challenges," she continued. "Because of the complexity we're navigating, we made bold, government-wide multi-year investments to ensure that the federal government is innovating, and providing the best digital services to the American people. So now it's incumbent upon us to keep the momentum going."
"Today I'm challenging all of us to continue to drive that innovation and do whatever bureaucracy-busting we can to remove barriers," Martorana said. "We've had countless successes, but now the question really needs to be, how do we move even faster to modernize government investments in long term modernization … and continuing to drive change across the Federal government."
Citizen Service Drive
As in her first major policy speech delivered on May 19, Martorana emphasized the importance of the Federal government focusing on how to improve citizen service with digital technologies, and with an enterprise view that spans across agencies.
"We must improve each and every digital interaction we have with the American public," she said, adding, that "good security, trust, and safety of transactions with the public is critical to the Federal government's digital service delivery."
"In my role as Federal CIO, I view the government through an enterprise lens because across government," because "many of us are working hard to solve the same problems."
"We must think about strategies to accelerate digital modernization across government, and having that enterprise mindset will really help us expedite this transformation," she said. "We need to continually ask ourselves, what are the cross-cutting missions where technology is an enabler to provide better services to our customers and our employees."
"A better government really begins by giving the American public a better customer experience using design and data to deliver secure digital solutions," she said. "We can transform the customer experience for all our customers – that includes our Federal employees as well as agencies to help deliver better services to the American people and meet the unique moment we are in."
"Our vision for 21st-century customer experience for the Federal enterprise won't leave anyone behind," she pledged, reiterating her vision of "360-degree, omnichannel solutions will provide tools for all customers, no matter where they live or how they work, whether they're urban or rural, young or old, tech-savvy" or not. "We have the opportunity to innovate on every single step of this digital modernization journey," she said.
TMF Project Deadline Approaching
Martorana didn't tip her hand today on what specific project proposals are coming in from agencies after the Biden administration earlier this month loosened repayment rules on the Technology Modernization Fund (TMF) awards and called for proposals by June 2 to begin putting the TMF's fresh $1 billion of funding to work.
But she did praise the fund's work over the past three years at supporting a smaller dollar value of projects and said she was "excited to see the kinds of projects that our agencies are starting to bring us" since the project call was issued earlier this month.
The Federal CIO reiterated that projects should be geared toward a few key areas including improving cybersecurity, high-impact IT modernization efforts, public-facing digital systems, and cross-government services and infrastructure.
Read More About