FITARA also says that the Office of the CIO will participate in all of the component IT governance processes—a massive endeavor for a large, decentralized agency like USDA with 80,000 employees in 29 bureaus and staff offices across the country. "Well, we had 29 agency and staff offices and they all had their own IT governance process on top of the department's governance process. We're not resourced to do that," said Anderson.
Anderson also spent time pursuing the experts within the USDA who could determine  which people were responsible for which aspects of FITARA.
"I also asked them, 'I need you to write what you think your roles and responsibilities are,' " he said. "I did that with every CxO. So when it came time to put that plan together, I had that section that said roles and responsibilities, and there was no way they could come back and tell me 'that's not what I do' because that's what they wrote."
Reality Sets In
When Anderson was first assigned responsibility for FITARA, he immediately put together a manpower and funding request. The result was something that few FITARA observers pay much attention to.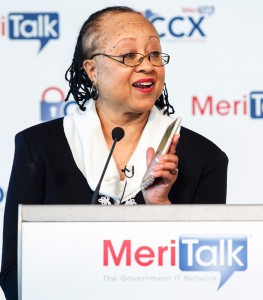 "It would have taken me seven full-time employees and about $3 million for the first year," Anderson told MeriTalk. "But there's also some funding required to update our systems to take the data in that we're collecting for FITARA. We have a system called AgMax, where we do our portfolio management, and a lot of the data that we're collecting for FITARA should be going into AgMax. But we don't have the funding to update AgMax to accept the data," he said. "That would eliminate the need to do data calls every time we need information from the agencies."
Though the act dictates that the CIO be responsible for many aspects of FITARA, the USDA CIO originally refused to sign off on many budgetary documents, because he had no means to understand the why of the decisions.
"Oh, we got flack from [the Office of Management and Budget]," Anderson said. "From the budget perspective, they [USDA budget employees] already had a pretty solid process for how they did the budget formulation. Only problem was, the CIO was not included." Anderson therefore pushed to get his CIO into the budgetary and decision-making meetings.
Beyond involving CIOs in decision-making, Anderson worked to get different departments to share responsibility for areas such as acquisitions.
"It was like pulling teeth with tweezers," he said.
"I think it's more cultural than anything else," Hunter said. "It's never the technology, never. It's always the people."
One of the major problems in this is employee qualifications for areas such as program management.
"Program managers, we'll grab a guy in a heartbeat. He was an engineer yesterday, he's the program manager today," Anderson said.
"We had people that have been managing investments for 15 years, [but] they never went to get their certification," he said. "I need somebody who's got experience in capital planning, I need somebody who's got enterprise architecture experience, I need somebody who's got a little security, and HR background, so that when we go out to talk to each of the CxOs it's not like we're speaking a foreign language."
Read More About