U.S. Chief Technology Officer Megan Smith championed the use of data as a means of bridging the gender divide in her speech at the Grace Hopper Celebration, celebrating both past achievements and programs aimed at changing the future of women in tech.
"My question for you guys is whether we can use computer science and other things to solve this," Smith said Friday.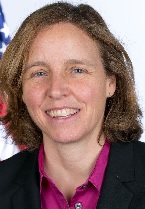 In particular, Smith pointed to the women who were part of the original Apple team and designed parts of the first Macintosh computers. According to Smith, though these women offered major contributions to the Macintosh design, they are rarely featured in films and other story forms exploring the early days of Apple.
"The women in these photos are not in the cast," Smith said, referring to photos displayed on screen of Apple's early days. "It's just untrue. Why are we writing that?"
Smith also said that in movies in general, men are given more speaking roles than women, even when women are the main characters.
"No one means to do this. We inherit hundreds of years of bias. But we are doing it to each other and we can use data science and computer science to see things that we couldn't see," she said.
As part of the initiative to use computer and science to bridge gender gaps, Smith encouraged audience members to join government data initiatives, either through long-term programs or short tours of duty.
"Our country will be what it is if we show up," she said. "So I would encourage you guys to become presidential innovation fellows."
Already government agencies are working to improve female recognition and representation in computer science. Smith announced that the U.S. Naval Academy would be naming its new cyber building after Grace Hopper, a U.S. Navy rear admiral, programmer of some of the military's major computers in the 1940s, and developer of the FLOW-MATIC programming language.
"Tomorrow is an edit-athon, a gender edit-athon with the United States archives, and you can come digitally," Smith added. The edit-athon was aimed at improving the Wikipedia pages related to gender equality. "For some reason Queen Victoria's page is half the size of Napoleon's."
Smith encouraged the audience to get involved in whatever way possible.
"The data is clear: Diverse teams just do better work," Smith said. "It's our job and our opportunity to break open those doors."
Read More About