We're witnessing momentous developments in government technology. The Modernizing Government Technology (MGT) Act promises new incentives for agencies that can prove they're maximizing government funds to bring about IT transformation.
Amid promising changes for agency modernization, what better voice to hear from than the former head of government-wide IT?
Tony Scott served as the U.S. CIO from 2015 to 2017 and brings a wealth of private sector experience as the former CIO of Microsoft, VMware, and Disney. Scott sits down for a fireside chat with MeriTalk Founder Steve O'Keeffe Wednesday at MeriTalk's seventh-annual Cloud Computing Brainstorm.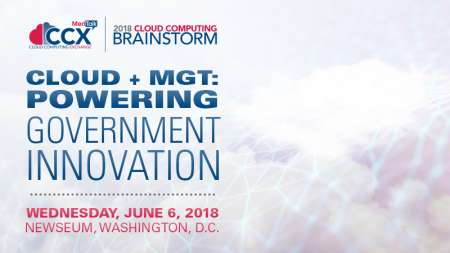 With cloud technologies poised to shape agency procurements on the path toward eradicating flailing legacy systems, agencies are still figuring out the best ways to balance mission-critical needs with the innovation afforded by private sector cloud offerings.
Wednesday's event also plays host to Kshemendra Paul, the cloud action officer for the CIO at the Department of Homeland Security (DHS).
DHS spearheads government-wide efforts such as the Continuous Diagnostics and Mitigation Program (CDM), and Paul will deliver an afternoon keynote that draws on his role driving enterprise cloud strategy and government collaboration to get the best out of cloud services.
Also on tap for the event is Rod Turk, acting CIO at the Department of Commerce, who will sit on a morning panel discussion of how shared services are offering brand-new avenues for cost savings and the ability to leverage wins at one agency to drive change at so many others.
Michael Schwartz, director of IBM's Watson and Cloud Platform for the Federal government, will moderate a panel on how government is making artificial intelligence a part of the playbook for smarter services.
And we host a can't-miss plenary session with some of the most influential women driving innovation in government IT.
Government attendees also have access to an interactive executive breakfast, where we delve into how multi-cloud environments can help agencies hurdle the persistent modernization roadblocks.
Registration is complimentary for MeriTalk's 2018 Cloud Computing Brainstorm, taking place this Wednesday, 7:30 a.m. to 1:30 p.m. at the Newseum. CPE credits are available to attendees.
There's never been a more exciting time to be involved with government IT. It's cloudy everywhere, and we can feel the winds of change blowing. Join us at the brainstorm and capture that lightning in a bottle to jumpstart your agency's modernization quest.
Read More About