Recruit Good Companies (Market Research)
You have to recruit good companies. You have to talk to them, a lot of them, so that you start to become sensitive to the differences and the advantages that make sense for your organization. A boatload of people still thinks that engagement like this is verboten. It isn't. OFPP published a Mythbusting memo1 on just this topic. Prior to the RFP going out the door you should be talking to as many companies as you can. Acquisition people call this "Market Research." Create a file, and save their materials. You want to figure out if they can do the job. This is easier said than done. Don't be snowed by slick sales people who know the lingo. You have to figure out if they can walk the walk. Here are a few tips that might set off your bullshit-o-meter:
Companies almost always like to tell you about how big their projects are, $50 million, $60 million, $100 million. Think about this from some of the fundamentals I talked about in the last chapter. If the optimum size of an agile development team is 7, +/-2, how many people are we talking about in a $50 million to $100 million project? Assuming people are around $100,000, you could get 500 people for $50 million. So if they start talking about how big their projects are, ask them to diagram the governance structure. If you start seeing layers of Program Managers, Deputy Program Managers, Project Managers, Task leaders, Technical Leads, blah blah blah. How much freaking overhead do you want to pay for? If they have a $50 million project and can't easily show you 30 or more discrete development teams working on it, then show them the door. It is A-OK to tell them that it doesn't look like a good fit. You don't want them submitting a proposal for your project because you will just have to waste energy justifying why you won't award to them.
Some companies think that they can do everything. If you see a company that claims that they can develop with every platform and technology type, don't believe them. There is too much out there. Only the really big companies can afford to have people for every flavor of technology. When companies do, they go out and recruit people if they win the work. But that is a risky situation. This means that they will be bringing in new and untested people. Also, beware of the body shop. A body shop is a company that has virtually no permanent staff. All they do is assemble a bunch of contract staff, 1099, for specific projects. There is no team, and there is no trust. It can be a bad situation. Instead, look for companies that tell you what they are good at. If they are telling you that they are the best SharePoint/.NET development company, then keep them in mind for that type of work. But if you are focusing on a different development platform, don't try to force it.
All of the work you want to accomplish can be performed by small businesses. I have nothing against big businesses. My statement is merely a reflection of the fact that the contracting rules and incentives are currently focused on making it easiest for you to make awards to small businesses. But beware; there are a lot of big businesses masquerading as small businesses. Anyone can say that they are a small business. But being "small" varies by industry. The table below is adapted from SBA (https://www.sba.gov/content/small-business-size-standards).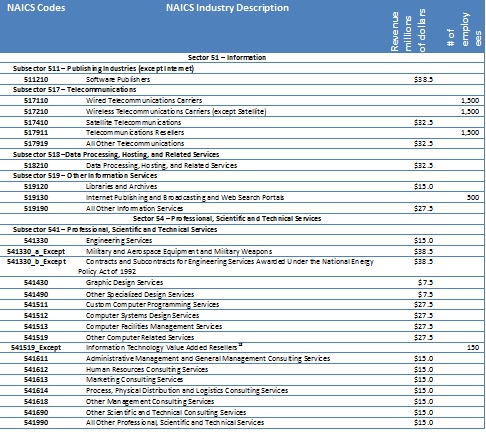 Finally, ask the company what contracts they are currently on. Many companies have a GSA Schedule 702. Some are on other governmentwide acquisition contracts (GWACS). STARS II3, and Alliant Small Business4 are 2 GWACS in which you can be sure that the businesses are small and you can get to them more easily. Figure out what they are already on, so that the range of methods for getting to them is as easy as possible. Your Contracting Officer should be able to look at the company's NAICS code, number of employees and revenues and tell you whether they are small or not.
Read More About