Patrick Carrick, director of the Homeland Security Advanced Research Projects Agency (HSARPA), is connecting officers within the Department of Homeland Security (DHS) with the latest technology, from drones to flood sensors to first responder devices.
The goal of HSARPA is to identify the needs of DHS's component agencies and link them to the technologies they need. Such components include the Secret Service, the Federal Emergency Management Agency (FEMA), and Customs and Border Protection (CBP).
"This is an attempt to link up those big ideas for what we're trying to do with the components with their needs that are scheduled to come down the line," Carrick said in an exclusive interview with MeriTalk at HSARPA's main office in Washington, D.C.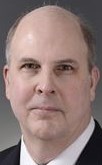 HSARPA is split into seven parts. Four of the divisions, namely Borders and Maritime Security, Chemical and Biological Defense, Cybersecurity, and Explosives, are technology oriented. The other divisions include the Program Executive Office Unmanned Aerial Systems, Apex Technology Engines, and Integrated Product Teams.
The Apex Technology Engines are special projects where HSARPA connects DHS officials from across the agency, subject matter experts, and new technology. The six Apex Engines are: Behavioral, Economic, and Social Science; Communications and Networking; Data Analytics; Identity and Access Management Technology; Modeling and Simulation; and Situational Awareness and Decision Support.
The Apex programs began during former Undersecretary for DHS Science and Technology Directorate (S&T) Tara O'Toole's tenure. According to Robert Burns, deputy director of HSARPA, O'Toole wanted to focus on two major projects a year on a quicker timeline than the agency previously observed.
"Apex simply means the point end of the sword," Burns said. "The concept of the Apex program is figuring out needs and solutions. If we don't transition, then the Apex concept was not successful."
According to Burns, the first Apex project focused on increasing the "protective bubble" around the president when he leaves office.
Carrick said that big data management is a key part of the Apex programs. The Apex programs involve collecting data from disparate sources, such as DHS components, private companies, and subject matter experts. Burns said that the big data world and the IT world are inextricably linked.
Apex data is compiled and analyzed, so that solutions can be applied to different departments with problems that are basically the same. Carrick said HSARPA's goal is to develop a common operating picture for components.
"Ultimately it's got to be how you're going to use data to inform people on the ground who are actually doing things," Carrick said. "A lot of what we're doing in research and development is trying to pull all that together and develop systems and processes that can actually use that big data."
In addition to leading HSARPA, Carrick also serves as chief scientist at DHS S&T. He established the Research Council, a group of experts to help guide HSARPA's projects and connect components with the technology they need.
"It's to provide a gray-beard panel, or smart group of people that are at a very senior level, that are technically very proficient," Carrick said. "We can take this group and engage them on various problems that we have. We just started this. We're still building this up."
While part of HSARPA is planning projects that will develop over the next few years, Carrick also responds to unexpected calls from the Secretary of Homeland Security. For example, he had to provide assistance when a pilot crashed a gyro-copter on the front lawn of the Capitol building in 2015.
Carrick still does not know how his duties will change—or if they will change at all—under John Kelly, who was confirmed as Secretary of Homeland Security on Jan. 20. Burns said DHS's mission set, which includes handling disasters, protecting national leaders, and securing the borders, has not changed.
"It's too soon to tell how the demand signal from the secretary's office may change," Carrick said. "It may not change substantially because protecting the country is protecting the country."
Read More About