For government agencies and other organizations that face the daunting task of modernizing their IT systems to meet new and developing requirements, the greatest technical risk they face is maintaining the status quo.
That was the bottom-line message from André Mendes, CIO at the Department of Commerce, who delivered a keynote address on May 26 at the GDIT Emerge virtual conference that focused on emerging technologies.
Mendes cataloged an array of IT modernization projects across the unusually broad scope of the Commerce Department – which includes such disparate segments at the National Institute of Standards and Technology (NIST), the Census Bureau, and the U.S. Patent and Trademark Office (USPTO).
NIST serves as the main resource for the rest of the Federal government for standards for technology innovation, while the Census Bureau and USPTO are heavy users of cloud-based infrastructure and emerging technologies including AI and machine learning.  In describing IT advances at the latter organizations, Mendes offered numerous examples of how cloud-based systems have been the key to modernizing operations that had in the past relied on paper and spreadsheet-based processes.
He compared the bigger picture of technology modernization to the evolution of species, saying that once technology has been commoditized, it then can be relied on as a building block for more advanced systems that then allow organizations to proceed to the next levels of creativity and efficiency.
"The basic principle that we are trying to implement is very similar," Mendes said. "There are all kinds of activities in the IP realm that have become commodities … so we are trying to ensure that every single one of those commodities can be dealt with in a manner that does not consume as many resources as it did before."
"Cloud strategies are obviously a tremendous component as part of that," he said, as are migration to software-as-a-service and infrastructure-as-a-service models.  Adoption of those technologies, he said, then allows Commerce Department bureaus "to spend more money on the secret sauce that makes them who they are, rather than all of the commodity functions that could be better handled by somebody else."
"This is really a philosophical principle that drives everything that we do from an operational standpoint and from a strategic standpoint," Mendes said. "Every time we have to make a decision about launching a new system, the last thing in our mind is to follow an old paradigm of in-house deployment of enough servers, storage systems, and so on."
Instead, the tech thinking at the Commerce Department "has to start with the premise that everything has got to go to the cloud, that everything to the degree possible is going to go to software as a service or infrastructure as a service, and that only in the most extreme cases where there is an absolute reason for deviating from that premise would you ever consider doing so," he said.
"At first we encountered some resistance" with that cloud-centric model because of perceived security and other risks, Mendes explained. "But I will tell you in my experience I have become convinced that the status quo is actually the highest risk of them," he said.
Government Tech Market View
During a Q&A session to open the Emerge conference, John Slota, GDIT's vice president and chief growth officer, offered insights on the government technology market and Federal IT policy environment following several high-profile cyberattacks directed at government and private sector organizations since late last year.
"The demand signal for the technology and innovation environment that we're in is extremely complex and is constantly shifting," Slota said. "It's so important that we within industry are able to provide the technologies that are needed for the customer's mission at speed, and that is absolutely essential to protect our nation and maintain a national security posture."
Speaking about President Biden's cybersecurity executive order issued earlier this month, and the administration's infrastructure investment proposal, Slota said, "I think you're going to see a continued focus from what the previous administration was doing, and really driving more towards technology superiority."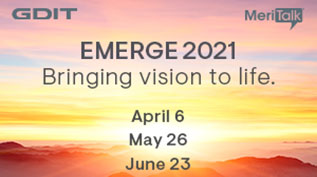 "On the defense side … it's really about how do you employ technology to make the people, the platforms, and the systems even more capable," he said.  The result of that, he continued, "will include increased investment in research and development and technology development as well."
"A couple areas that I think that you'll see this employed is not only in the defense world but across the entire Federal market," Slota said.
"So if you're looking at the near-peer threats that we're combating against, or whether you're looking at medical research and infrastructure to be able to combat the next biological threat, or if you're even looking at the modernization of systems so governments can operate and perform their processes much more effective, efficient and secure, I think technology is going to be at the forefront of that across the entire Federal budget plan," the GDIT official said.
Read More About