Sen. Sheldon Whitehouse, D-R.I., told Attorney General Jeff Sessions on Oct. 18 that he has found it impossible to talk to anyone from the Department of Justice about cybersecurity legislation.
Whitehouse said during a hearing before the Senate Judiciary Committee that intelligence officials have told the committee that the election systems could be hacked by foreign actors. Whitehouse is interested in working with different agencies to develop legislation on cybersecurity.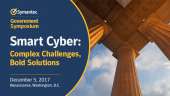 "What I'd like to know from you is the name of a person in the Department of Justice whose job it is to look at that and make recommendations to the Senate as to what legislative remedies we should pursue to prevent that warned of activity from happening," Whitehouse said. "Is there such a person and what is his or her name?"
"Well, I think it would fall within our national security division," Sessions responded. "I'll be frank. I don't know that we're doing a specific legislative review at this point."
Sessions said he would be willing to discuss the possibility of legislation with Whitehouse.
Whitehouse referred to the White House Cybersecurity Executive Order that calls for information on the security posture at the Cabinet agencies. Whitehouse said that he has worked with Homeland Security Adviser Tom Bossert on the executive order's goals but there is no planned legislation to back up the order at this time.
"As you know there are multiple congressional committees that touch on cybersecurity and it really complicates life if there's not somebody from the Department of Justice whose job it is to work with us on cybersecurity legislation," Whitehouse said. "And the silence has been deafening. If you could get me a name of a person whose responsibility it is at the Department of Justice to work with us at the Senate on cybersecurity legislation that would help move things forward."
Sessions told Whitehouse to call the DOJ's Department of Legislative Affairs. Whitehouse proceeded to pull out a list of 10 unanswered requests that the Senate sent to DOJ since January. Sessions blamed the backlog on the lack of confirmed DOJ nominations.
"There are things we need to fix legislatively on cybersecurity," Whitehouse said. "At the moment I can't find a point of entry into this administration of anybody who's working on cybersecurity legislation."
"I understand," Sessions said.
Read More About