Perryn Ashmore is stepping down as CIO of the Department of Health and Human Services (HHS) later this month and is retiring from government service after long stints in senior IT management roles at HHS and several other Federal agencies, HHS confirmed to MeriTalk.
Ashmore stepped into the lead role in HHS technology operations and the agency's $6.3 billion IT portfolio in late 2020 during the height of the coronavirus pandemic, taking over for Jose Arrieta.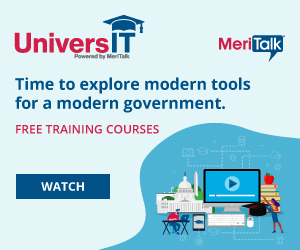 As part of MeriTalk's CIO Crossroads series tracking Federal agency tech leaders and operations throughout the pandemic, Ashmore talked about the crucial roles that HHS tech leaders have played including defending against massive cyberattacks, and pivoting to support virus development efforts through vastly expanded data gathering and analytics operations.
Before becoming CIO, Ashmore was Principal Deputy CIO and Customer Experience Executive at HHS, and executive director of OCIO Office of Operations. Prior to that, he worked in HHS' Office of Human Resources and headed up a major upgrade of the agency's human resources management system.
Prior to joining HHS in 2014, Ashmore worked on tailored platforms and data at the FCC, held positions with the Department of Veterans Affairs, and was deputy CIO and chief technology officer at the General Services Administration.
Ashmore did not respond to comment on the news, which was first reported by Federal News Network.
Read More About