The coronavirus pandemic – for all the tragedy and disruption it continues to cause – has advanced the cause of digital modernization by three to five years, leaving government and private sector organizations better prepared to provide improved digital services going forward.
That was a key takeaway from Max Peterson, Vice President, Worldwide Public Sector at Amazon Web Services, during a keynote presentation September 28 at the company's AWS Summit in-person event in Washington.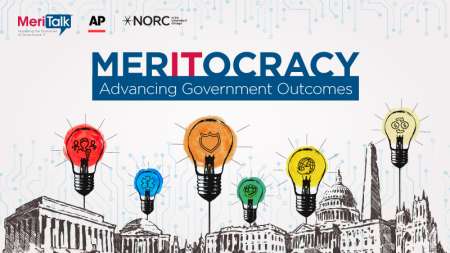 Organizations that were operating on legacy IT systems "found they were no match for the crisis" caused by the COVID-19 pandemic, Peterson said. But customers of cloud services including those provided by AWS were able to better ensure business continuity, save lives, and deliver mission critical services despite the pandemic's impact, he said.
Peterson said the bottom-line finding is that the pandemic "accelerated a digital transformation" across government and business of three to five years, and "maybe more."
Many of the positive changes created by the acceleration of digital modernization "are going to be permanent," he predicted, and will form the basis for lasting change in improved service delivery.
"How do we keep building on this moment … for a better world," he asked.
Peterson also discussed a lengthy list of services that realized benefit from the use of cloud services, including many in the areas of healthcare delivery, vaccine development, online learning, and education and training.
Air Force CIO Talks Cloud One Benefits
Also speaking during the conference keynote address, U.S. Air Force CIO Lauren Knausenberger talked about the service branch's Cloud One cloud computing platform, which has a majority of its systems hosted with AWS, and the benefits that the platform is bringing to the Air Force.
"We decided a few years ago that we were going to be a multi-hybrid cloud, and along with being a multi-hybrid cloud, we have to do that across multiple levels of classification," including unclassified, secret, top secret, and sometimes even higher levels, Knausenberger said.
The view when she joined the service branch four years ago was much different. "All of our websites were largely hosted locally" and "we had different teams maintaining them … and different teams securing them," she said. "Can you imagine, with what you know of the security accreditation process and government, having to independently deploy all of those things and get them accredited," she asked, adding, "We don't do that anymore."
Knausenberger said "the vast majority of our unclassified systems are in Cloud One, and a large number of those are in AWS."
"Systems are really a collection of many things," she continued. "So think of that as hundreds of applications making up those systems that I'm talking about. Over 19 million monthly logins, all of our public facing sites, all in the cloud today."
"We have been able to close almost all of our personnel-focused data centers and consolidate hundreds of applications so the cost savings have been huge," the CIO said.
She also pointed to public metrics for Cloud One showing several hundred thousand attacks prevented each month.
"We take a lot of incoming fire," she said, "much like the global banking industry also takes a lot of incoming fire in the cyber domain … We have really set up an incredible environment that combines automation, but also our airman defenders, to stave all of that off through our cloud environment."
She also said that Cloud One has simplified identity, credentialing, and access management (ICAM) solutions.
"Today, we have one standard solution," she said. "If I want to set up an innovation lab, if I want to launch a new app, if I want to host a new business application, I can do all of that in Cloud One."
"And I can go and largely push a button [and] spin up an accredited environment," she said. "I don't have to go through the 900 steps starting over … Our agility has been hugely increased through this," she said.
Read More About