Yahoo last year produced a software program that would search customer emails for information specified by U.S. intelligence officials, according to a report by Reuters. Rep. Ted Lieu, D-Calif., condemned such actions, calling them "Big Brother on steroids."
"If true, the government's directive to Yahoo to write a software program and search all of its customers' incoming emails for certain content is a gross abuse of Federal power," said Lieu. "Private sector companies and private citizens are not an arm of law enforcement or an extension of our intelligence agencies."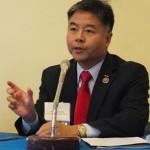 Lieu went on to explain that law enforcement and the National Security Agency did not have a warrant for the customer data that was searched, which goes against the Fourth Amendment guarantee against warrantless search and seizure.
Law enforcement's ability to ask private companies for custom software that accesses customer data has come under scrutiny recently due to debate over whether the FBI could subpoena Apple to write code to break into a San Bernardino shooter's iPhone. Many members of industry have come out in opposition of such practices.
"Forcing a private sector company to search emails is even worse than the NSA's bulk collection program because now the Federal government is seizing and searching content, not just metadata, without a warrant," Lieu said. "This revelation is particularly troubling because Congress, on a bipartisan basis, reined in the NSA's unconstitutional bulk collection of phone records last year.  It appears law enforcement and the NSA have continued to violate the Constitution and the American people's right to privacy despite clear signals from Congress to follow the Constitution."
Other email and social media companies such as Microsoft, Google, and Twitter have made statements saying that they have not produced any secret scanning programs akin to Yahoo's.
Read More About