Retired Marine Gen. John Kelly stressed the importance of working together to combat cyber warriors at his confirmation hearing for Secretary of Homeland Security.
Kelly said at the Jan. 11 hearing that incumbent Secretary of Defense Ash Carter was "on to something" when he reached out to Silicon Valley companies for best cybersecurity practices. He said he would like to continue Carter's work as DHS secretary.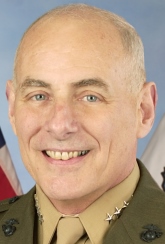 "I'll get deep into it. I understand the cyber out there and know what our capabilities are. Now we know that we have some pretty darn close to peer competitors," Kelly said. "Everyone realizes that everyone's at risk. Working together makes an awful lot of sense. I think more cooperation among private sector and state sector could go a long way. Information sharing could be better. It's way up on the list of things I'll look at."
He also pledged to support the Small Business Cybersecurity Improvement Act, which mandates that the Federal government protect small businesses against cyber threats. Sen. Gary Peters, D-Mich, labeled small businesses "the weakest link" in the cybersecurity chain.
Kelly's hearing occurs days after the intelligence community released a report revealing that Russia led efforts to interfere with the election and sway President-elect Donald Trump to victory. While Trump expressed skepticism over the report, Kelly said he accepts the report "with high confidence."
An overwhelming number of senators' questions for Kelly hinged on border security. Sen. Claire McCaskill, D-Mo., stated that the Federal government spent $19 billion on border security in fiscal year 2016 alone.
Trump ran his campaign on the promise of a wall separating the U.S. and Mexico. Kelly said that a wall cannot serve as the only measure of defense, and that humans and devices must also play a role.
"A physical barrier will not do the job. It has to be a layered defense," Kelly said. "If you were to build a wall from the Pacific to the Gulf of Mexico, you'd still have to back that wall up with human beings, sensors, and observation devices."
Read More About