The Defense Information Systems Agency (DISA) announced on Nov. 22 that the Joint Artificial Intelligence Center (JAIC) is seeking out a cloud system integrator to support the procurement, implementation, and operation of a hybrid and multi-cloud platform.
DISA explained that the cloud integrator selected will aid JAIC's deployment of artificial intelligence (AI) and machine learning applications across the Department of Defense (DoD) at enterprise scale as a part of JAIC's Joint Common Foundation (JCF).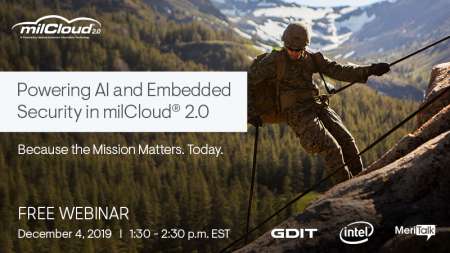 "The JCF will be a platform that will provide access to data, tools, environments, libraries, and other certified platforms to enable software and AI engineers to rapidly develop, evaluate, test, and deploy AI-enabled solutions to warfighters," Director of JAIC Lt. Gen. Jack Shanahan told reporters in August.
The announcement states that JCF will incorporate the Enterprise DevSecOps Initiative into its performance and evolve to enable the DoD AI Strategy as it develops.
The agency is requesting that interested parties explain their cloud infrastructure, user management, cybersecurity compliance, Infrastructure-as-a-Service, Platform-as-a-Service, and continuous integration and delivery experience in their submissions. Large and small businesses are both encouraged to respond to the solicitation by Dec. 6.
DISA plans to hold a presolicitation conference in early January 2020, release a request for proposals in the second quarter of Fiscal Year 2020, and make the award in the fourth quarter of FY2020.
Read More About