Big Blue is on a roll. The company on Monday announced a new data center in China, upping its cloud footprint to 51 data centers in 20 countries and signaling a continued enterprisewide push to make cloud computing a central component of its business moving forward.
As IBM continues a strategic rebound under CEO Ginni Rometty, cloud already accounts for 17 percent of its business. But with cloud still in its early stages of development, IBM is doubling down on a few key aspects of the IBM cloud that make it different and potentially a game-changer for its corporate and government clients.
Rometty outlined what she called the three tenets of the IBM cloud during a keynote presentation at the company's InterConnect conference in Las Vegas this week. According to Rometty, the IBM cloud is "enterprise strong…data first…and cognitive to the core."
What Rometty is really talking about here is deploying strong public clouds that are designed for specific industries, with data sovereignty and more security than on-premise cloud. It's also about what Rometty calls "industrialized hybrid" cloud and choice, as well as integrated security from the chip level up through intelligent security monitoring powered by Watson.
But there's one other area that IBM is working on that holds perhaps the greatest potential for ushering in the next great era of computing: artificial intelligence that is so powerful it offers almost human cognitive capabilities.
"Our job is really to help prepare you for what you will become. And in my mind you will become cognitive," Rometty said. "It will be in your applications, your processes, and you'll become a cognitive enterprise. And it will separate the winners and the losers."
For IBM, cognitive is not a feature. It's a foundation of the IBM cloud—a foundation built on Watson.
"Watson starts at one side, which is machine learning. And then it's AI. And then it's cognitive. That real ability to reason and understand," said Rometty.
But being cognitive at the core isn't just about looking at data and understanding it. "You have to almost have all of the senses that you and I have, the ability to see, to feel, to hear, to read," Rometty said. "Our ability to look at images is better than any other AI engine out there. We can go ahead and describe what's in an image or if it's a melanoma [with] 95 percent accuracy. I'm telling you what it is."
And what about Watson's ability to listen? "I would say and characterize it as almost human," Rometty said. Recent studies show that humans miss about 5 percent of words used during normal conversations. Watson is fast approaching that level of capability. "We published our study a couple weeks ago and Watson is [operating at a] 5.5 percent error rate. Almost human," she said.
Randall Stephenson, CEO of AT&T, said his company is pushing IBM cloud into almost every aspect of its operations, and noted AT&T's government work as the "poster child" for what is possible. "We're doing so much…using IBM for everything from Watson to a lot of the intelligent services, security services, [and mobile device management], which is controlling the mobile handset requirement. One of the agencies has 27,000 handsets that are operating in this environment right now," Stephenson said.
AT&T also announced this week that it is powering its IoT environment with IBM Watson. "Think about all these really low-cost sensors that are being deployed all over the place. They're all networked. They're all throwing off massive amounts of data. So, what do you need in that environment? Having an engine like Watson to help organize, categorize and generate the insights for your business I think is going to change how every business represented in this room operates in the next couple of years," said Stephenson, who joined Rometty on stage at the InterConnect conference.
IBM has also placed big bets on blockchain. IBM already has 400 ongoing projects focusing on blockchain, from financial services, to supply chain, global shipping, and food safety. It recently announced a blockchain service based on its work with the Linux Foundation's HyperLedger Fabric 1.0. "Blockchain will do for trusted transactions what the Internet has done for information," said Rometty.
According to Stephenson, the combination of networking power with IBM's cloud—including the cognitive and security functions—are already reaping benefits for global enterprises. One example is the global shipping company Maersk.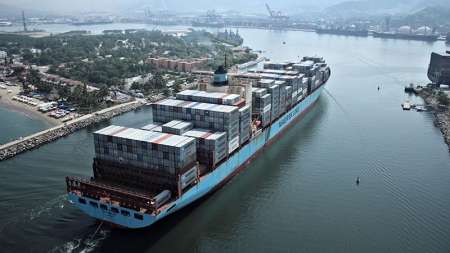 "We know what they're doing with Watson, which we think is critical," said Stephenson. "We have over 300,000 of their containers around the globe with sensors on all these containers. And Maersk at any moment in time knows where those containers are, the temperature, and volatility of those containers. Think of all that information that's being thrown off those containers. Think about what Watson will do with that kind of information."
IBM and Maersk intend to work with a network of shippers, freight forwarders, ocean carriers, ports, and customs authorities to build the new global trade digitization solution, which is expected to go into production later this year. It has the potential to vastly reduce the cost and complexity of trading by using blockchain technology to establish transparency among parties. The solution is designed to help reduce fraud and errors, reduce the time products spend in the transit and shipping process, improve inventory management and ultimately reduce waste and cost.
China, the location of Big Blue's latest data center deal, has already witnessed the power of IBM's cognitive cloud. China, which is wrestling with a major air quality and pollution problem, has leveraged the IBM cognitive cloud capabilities to take their pollution predictions to the next level.
"With the cloud, with the data, and with Watson, we've been able to predict the particular particulates that are in the air 10 days in advance, [across] a square kilometer," Rometty said. "If you could predict 10 days in advance you could actually take the actions to whether you want to change traffic, change production, or change factories in a place where it's a matter of life and death."
Read More About