Dave Zvenyach, director of the General Services Administration's (GSA) Technology Transformation Services (TTS) organization, said today he is aiming for TTS to help Federal agencies speed technology development in several areas. But he explained that in some cases, TTS assistance also takes the form of less tech-flashy work such as preparing agencies for new deployments by working through governance and policy issues.
Addressing attendees at ACT-IACT's Emerging Technology and Innovation virtual conference, Zvenyach pledged himself to a number of goals since taking over the helm at TTS earlier this year.
"Our focus really is on providing trust and value to our agency partners, and improving the public's experience with governments through trusted and accessible and respectful government experiences with IT for all," he said.
"My goal is and will be on making sure that TTS is the best decision" for agency partners, and then to "let the incredible teams that we have within TTS focus on delivery." He added, "My more immediate goal is just to make sure that we are tackling the most important challenges for our partners for the government and for the public."
"As you all know, technology is going to be critical to how this government responds to the crises of today and is supportive of the digital services that we need in the future," he said. "And those challenges require a whole of government approach with technology as a foundational element." The resulting opportunity for TTS, he said, is one "that we don't take lightly."
Groundwork for Advanced Tech
Speaking specifically to emerging technologies issues, Zvenyach explained that the desire of Federal agencies to begin adopting technologies like AI and machine learning is strong, but that the start of projects to help them get there can involve more mundane issues such as policy and governance.
"As we look at the landscape, we see that Federal agencies are eager to better understand the opportunities and challenges associated with emerging tech," he said. "With AI for example, we constantly hear from Federal partners and colleagues how they need to better understand how to get started, to know where and how AI can be used in meaningful transformative ways, and how to apply it on a practical level."
"This awareness and knowledge is a major advantage as agencies explore their options for bringing this technology into their ecosystem, but I have to tell you, agency partners … struggle to have the appropriate governance, the policies, and tooling to support these technologies," Zvenyach said.
"We see this issue firsthand within TTS when we bring our capabilities like data science, AI, ML, RPA [robotic process automation], and we jump into work alongside agency partners as they're starting to explore using these technologies within their agencies," he said.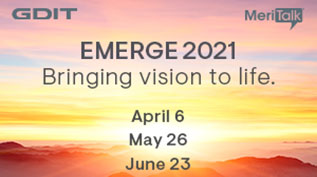 Sometimes though, sorting through preliminary governance and policy work is no small task.
"I often refer to … one of our colleague's work experience where he went to an agency and discovered that even though there was a desire to use some of these tools … [it took] over six months just to get the basic clearances, the forms, the laptop, and access to the network, just to do the basics, and even then it was limited."
"These types of experiences are not just felt by us, but they're also felt by you as industry partners when you're trying to bring in these emerging technologies to bear," he continued.
"So as we think about how we can bring our experience to bear, it's by really trying to accelerate transformation, and really help agencies bring these emerging technologies into government, and making sure that they have the governance policies and practices in order to move this forward," he said.
Read More About