The General Services Administration (GSA) is looking to serve as a "proving ground" for cloud adoption in the Federal government, to lead the way in digital transformation and to serve as a model for other agencies, GSA CIO David Shive said today.
"The agencies we partner with and the citizens we serve rightfully expect us to become more efficient over time by doing things like increasing cloud adoption," Shive said during FCW's Cloud Summit event. "Those efficiencies lead to better business outcomes, decrease costs, increase velocities, [and] higher quality. It's what they demand of us and it's what we'll deliver."
Shive said the agency wants to lead the way in cloud adoption, not only to become a "true digital entity working in the Federal government," but also so that it can develop roadmaps and playbooks for other agencies to use and learn from GSA's experience.
"GSA's experience and expertise as an innovator in cloud computing is well established. We led the way within Federal government as the first agency to move our IT operations to the cloud," Shive said. "We use ourselves as a proving ground, we try to figure out what the art of the possible is in Federal government."
"You know, we're not like Commerce or DHS, we're not a massive agency. We're small enough that we can be pretty nimble, we can try things out, but we're big enough that the things that we do successfully likely will scale to those other agencies. So we're determined to do that," he added.
GSA strives to be a leader in "providing new and innovative IT solutions for our internal customers and our Federal partners," Shive said, and that means moving to the cloud.
"Any talk about cloud needs to focus on tech modernization," he said. "Tech modernization is a priority for the administration, and it's a priority for GSA. However, I like to think of this as digital transformation version 2.0. The question I often get is, 'didn't GSA do this 10 years ago?' My response is, 'this is the next iteration.'"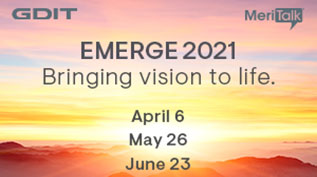 Constant assessment of new and emerging tech is key to that second digital transformation, according to Shive.
"Today our cloud strategy brings the option of new and emerging tech to our toolbox," Shive added. "As part of that second wave of digital transformation I talked about, we developed a cloud rationale based on key principles such as 'tech done poorly in the cloud is no different than tech done poorly on-premise.'…This means continually applying traditional IT best practices of rationalization and transformation, even to modern tech, like what exists in the cloud."
For agencies who want to learn how to effectively move to the cloud or assess what's useful in the cloud, Shive said GSA has developed several resources such as cloud.gov, tech.gsa.gov, and the Cloud Information Center.
Read More About