Throughout the pandemic, large government contractors like General Dynamics Information Technology (GDIT) have played a significant role in partnering with government agencies to "keep the lights on" while simultaneously advancing their critical missions.
We recently spoke with Amy Gilliland, president of GDIT, and covered a lot of ground – from her background in military service and dedication to lifting up diverse viewpoints to her thoughts on the convergence of cloud, cyber, and AI in the government IT landscape.
MeriTalk: Your background charts an intriguing path from the Naval Academy to the top of a preeminent technology company. Can you share with us a couple of key experiences or decisions along the way that shaped your path?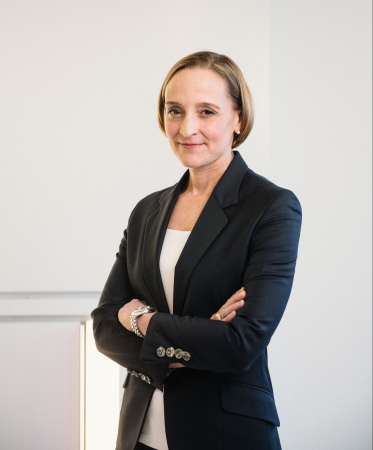 Gilliland: Serving as a young Navy Lieutenant shipboard division officer on an Arleigh Burke Destroyer in harm's way helped me understand first-hand the gravity of the mission, the dynamic nature of enemy threats, and the importance of technology support to the warfighter. My shipboard experiences also showed me the importance of cohesive teams and strong leadership, which I continue to value and champion to this day.
Another significant turning point was my decision to leave the military to pursue a career in the private sector. At the time, service to my country was still my intention, but I wanted to realize it in new ways. It was important to me to join a company with values that aligned with that purpose, one that would allow me to lead, innovate, and transform through a mission-focused lens. I found that with General Dynamics (GD).
My path at GD has been nonlinear and somewhat non-traditional, but also invaluable. I've benefited from incredibly diverse experiences – from strategic planning and investor relations to serving as Chief of Staff to GD's Chairman and Chief Executive Officer and leading Human Resources. The perspectives I gained from each of these experiences gave me the foundation to lead GDIT.
MeriTalk: How important was your military service along that path? How has it shaped you?
Gilliland: I come from three generations of military service, going back to my great-grandfather, who emigrated to the U.S. from Switzerland at 18 and later joined the Navy. That history gave me a strong sense of pride and deeply influenced my desire to pursue a career of service.
One of the most valuable aspects of my military service was the opportunity to be a part of teams with a shared commitment to a clear mission. Throughout my journey at GD, and now GDIT, that mission focus is paramount, especially when it comes to supporting our customers. It is a privilege to partner with our customers to navigate and innovate around the challenges and opportunities they face as they protect and serve our nation. Equally important to the mission is our culture at GDIT, where we strive to create the best, brightest, most diverse team we can to address the mission.
Being visible and approachable while also setting accountability and high performance expectations are traits I developed while in the Navy and continue to rely on today.
MeriTalk: You have been an outspoken leader on the importance of diversity and ensuring GDIT fosters a culture of respect and inclusion. How does GDIT build a culture that embraces this mindset?
Gilliland: I wholeheartedly believe that diversity, in all its dimensions, brings forth better ideas and enables us to be an innovation powerhouse, the partner of choice to our customers, and a career destination for top talent.
We have been very intentional about the culture we want to foster at GDIT, and I'm proud of the progress we've made. We established technical and community forums that give employees additional ways to engage within GDIT outside their project work.
Our Communities of Interest allow technologists to collaborate around key tech domains like AI and cyber. With GDIT Cares, our employees volunteer in their communities and work with organizations like Black Girls Code and Out Teach. And our nine Employee Resource Groups build connectivity and allyship, allowing employees to support one another. These groups were especially valuable over the last year as we engaged in candid conversations on social justice and equality, and they helped us improve how we operate and communicate to better reach all employees.
Even after this very tough year where so many of our employees worked remotely, I believe our culture is as strong as ever. We will continue to put our time and resources toward initiatives that put the power of diversity and inclusivity to work at GDIT for our customers and communities.
MeriTalk: GDIT seems ideally positioned to shape the next chapter in the ongoing Fourth Industrial Revolution. Can you give us a high-level outlook on how your strengths in cloud, AI, and cyber play together for Federal customers?
Gilliland: In many ways, the convergence of these technologies is a game-changer. Not only will it make our government more secure and efficient, it can dramatically transform how we live, how we work, and how we defend our nation from our adversaries, both on the battlefield and within cyberspace.
With this in mind, after we acquired CSRA, we reshaped our portfolio and investment strategy to focus on core technology competencies such as enterprise IT, AI, cloud, and cyber, and we continued to evolve skillsets and delivery models to keep pace with the speed at which technology evolves. This positions us to innovate rapidly and accelerate capability to mission while bringing the full breadth of GDIT to all our customers.
As a result, GDIT has established a leading position in key markets. For example in cloud, GDIT is delivering two of the three clouds called out in the DoD Cloud Strategy through milCloud 2.0 and the Defense Enterprise Office Solution (DEOS). In addition to providing enhanced collaboration and rapid access to the cloud, these enterprise-wide DoD clouds reduce the threat surface and provide unified cyber protection. They also provide a platform for additional 4IR capabilities.
In the health sector, GDIT provides cloud capabilities for the Centers for Medicare & Medicaid Services (CMS), which operates one of the largest public clouds in the federal government, hosting and securing more than 100 highly-visible, critical applications.
To stay ahead, we have strategic alliance partnerships with a network of exceptional commercial partners to bring both big tech and emerging tech to integrate capabilities at speed and scale. We also bring the capabilities of General Dynamics to our customers' missions. As an example, GDIT and General Dynamics Mission Systems (GDMS) partner to deliver secure networks and integrated product and services in support of multiple classified customers.
MeriTalk: In our talks with Federal CIOs, it's clear that agencies embracing cloud services have been able to navigate the pandemic more surely. How has the urgency for Federal cloud adoption and other technologies changed, and how do you help your customers on that journey?
Gilliland: The last decade has seen a surge in cloud adoption across the commercial and Federal space. The pandemic has accelerated cloud adoption precipitously and magnified the importance of cloud technologies, enabling agencies to pivot quickly in order to maintain mission continuity. Recent cyber-attacks add to the urgency to retire legacy data centers and networks and move to the cloud to improve security posture.
Expanding our cloud practice has been an imperative for GDIT. We operate cloud services from providers like AWS, Microsoft, and Google. We are also a Cloud Service Provider (CSP) through our milCloud 2.0 solution for the DoD, and we run enterprise cloud services for agencies in the Intelligence Community and for customers in the federal civilian market, like the Federal Aviation Administration and Health and Human Services.
This gives us extensive experience in deploying secure hybrid, multi-cloud capabilities for a range of missions. And we keep building: we recently announced the expansion of milCloud 2.0 to include cloud services from AWS. This aligns with the DoD multi-cloud strategy and simplifies acquisition and choice for the DoD and DISA mission partners. They can now take advantage of the latest technology and innovate more quickly with artificial intelligence, machine learning, cyber sensing, and other emerging capabilities.
Like our customers, we have been employing cloud and other technologies within GDIT to provide agility and resilience. For example, by adopting both AWS and Azure we were able to close seven internal data centers over the past few years, driving efficiencies and access to advanced technologies like AI and analytics services. These investments in our infrastructure and other cloud technologies enabled us to transition 60% of our employees to secure remote work environments within days of the pandemic unfolding. We kept our 30,000 employees connected and productive regardless of where they work while continuing to meet our customers' stringent security requirements.
MeriTalk: What is the government doing from a technology perspective to get ready for pandemic recovery and meet whatever challenges the future may bring?
Gilliland: The pandemic required our customers to accelerate adoption of technologies to virtually and securely connect and collaborate across the globe. Agencies will continue to invest in workforce productivity, user experience, and secure mobility solutions that enable employees to work anywhere, from any device.
Agencies will also continue to turn to solutions like performance-based managed services to securely shift more responsibilities to vendors, and use other transactional authorities (OTAs) to accelerate bringing technologies to critical programs. The use of DevSecOps in conjunction with the cloud will also hasten the government's ability to bring new mission capabilities to production.
Cybersecurity remains a top priority, and there needs to be a greater focus on consolidating systems to reduce the threat surface. In addition, at GDIT, we are working to stay ahead of the threat landscape by developing intelligent systems driven by machine learning and artificial intelligence.
There is so much happening across government to address – from the pandemic to increased cyber threats – and the technology is there to respond. We're excited to apply these game changing technologies to our customers' toughest challenges, which can have such a profound impact on their missions.
GDIT is kicking off Emerge 2021 – a three-part virtual event series – this spring, covering critical issues in Digital Modernization, Emerging Technology, and Defense Cloud. Learn more and register.
Read More About