Federal agencies are refocusing their IT efforts in order to look at problems from an enterprise perspective rather than by individual bureau.
"When you're looking at the bureau you have money kind of stuck and stovepiped in that level," Melonie Parker-Hill, division chief of the enterprise operations center at the State Department, said at FCW's IT Modernization Summit on Oct. 11.
Parker-Hill said the State Department started thinking about how to modernize and move to the cloud before policies like the Federal Information Technology Acquisition Reform Act (FITARA) and Data Center Optimization Initiative (DCOI) came out. The State Department's focus now is to find cloud-enabled applications that can function on an enterprise level.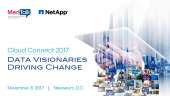 "You have to have the support from the top down in order to make those changes," Parker-Hill said.
Rod Turk, acting CIO of the Commerce Department, said that it's difficult to function as an enterprise because some bureaus have "moved significantly" into the cloud and other bureaus, "not so much."
"We're preparing our agency for the tipping point," Turk said.
Turk said that he expects to see a major shift in Federal IT in the next couple of years, from a workforce that mainly performs hands-on duties  to employees who act as project managers and contract managers.
"Frankly, project management is going to be one of our significant focuses," Turk said.
This will require a shift in the Federal IT workforce that makes some employees nervous.
"My folks are not necessarily worried about losing their jobs," Turk said. "They're worried about me adding things to their jobs."
Turk said that when he hires new employees, he looks for people who have skills in acquisition, finance, and communications.
"We have to approach this from an evolutionary perspective," said AJ Bognar, chief of Army Data Center Consolidation and Cloud Transformation. "It's not going to happen overnight."
Janice Glover-Jones, CIO of the Defense Intelligence Agency, said that it's important to incorporate automation, machine learning, and big data into the Federal landscape.
"The jobs that we perform today may not exist for humans in the future," Glover-Jones said.
Frontis Wiggins, CIO of the State Department, said that one solution that he has tried in order to mitigate the workforce shortage is hiring interns from the Washington Center Civic Digital Fellows. The interns were hired in April and received clearances within three weeks. By August, the interns had eight cloud-based application up and running.
Wiggins said that 43 percent of the State Department's civil service IT employees are ready to retire. This has caused him to think about how to reach out to the younger generation of workers to onboard more talent, but he realized that digital natives' perspectives on IT are different from baby boomers. Wiggins' son does all of his schoolwork on Google Drive.
"If I talk to him about turning in a paper copy of something, he looks at me like I'm speaking Aramaic," Wiggins said.
Parker-Hill said that Federal employees need to continue retraining themselves on new capabilities, because although the State Department uses both data centers and cloud applications today, the environment is always changing.
"Is hybrid here to stay as far as the cloud? We don't know," Parker-Hill said. "We never stop learning and we have to rebrand ourselves."
Read More About