On the campaign trail, President Donald Trump promised decreased government regulation and championed American companies.
Consumer Technology Association President Gary Shapiro, however, said that some Federal regulation will be necessary as new technology, such as self-driving cars, becomes more prevalent.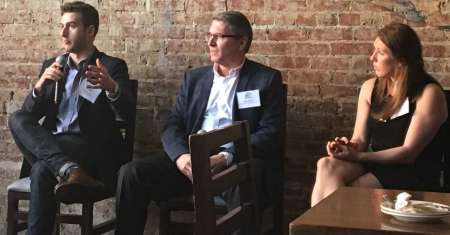 Shapiro, who spoke at the Department of Homeland Security Science and Technology Directorate's EMERGE Wearable Technology showcase March 1, said that the Federal government will have to play a role in regulating the use of autonomous vehicles. CTA is a nonprofit trade association that supports programs among consumers, companies, and government agencies.
"When it comes to safety issues, we want the Federal government involved," Shapiro said. "Every major car company says, 'It's our future.' The government has to be cooperative, with jobs in addition to safety."
Shapiro said 80 percent of the companies in CTA are startup companies. Startups are at the core of S&T's EMERGE program, which challenges fledgling companies to bring new wearable technology to first responders, such as firefighters, police officers, and emergency medical technicians.
Ten companies, offering devices ranging from carcinogenic exposure trackers to inflatable solar-powered lamps, were selected out of a pool of 260 for this year's program.
"There's a lot of untapped potential with smaller companies. You can do almost nothing alone," said Michael Hermus, chief technology officer of DHS. "For us, it's about the data. Advances in data analytics and artificial intelligence are really important. Many operators don't even know where tech is right now."
S&T connects its selected startups with first responder agencies, both at the state and Federal level, who may be interested in using their tech. However, Hermus said that DHS benefits from the companies' ideas just as much as first responders do because they force the agency to overcome the "fear of certain risks" associated with introducing new technology. Transitioning to new technology requires a Federal mind-set shift, Hermus said.
"Cultural shifts have to occur for innovation. The Federal government has never felt it needed to change for its survival because it never had to compete with anybody. Nobody's competing to be the new DHS," Hermus said. "We need to connect the dots inside agencies like DHS. If it doesn't make its way into the hands of operators, then we haven't done anything."
Hermus refused to comment on the new administration in an interview with MeriTalk, but he stated that partnerships such as the ones fostered by EMERGE are beneficial to all parties and will likely continue. He said he is confident that more partnerships will evolve in the years to come because they drive economic growth and galvanize new tech within Federal spaces.
"The program is fantastic. We're trying to drive public-private partnerships," Hermus said. "It's a win-win-win."
Read More About