Federal agencies are increasingly turning to artificial intelligence (AI) for advanced technology solutions, but face challenges operationalizing AI on larger scales at the agency level.
In a survey of 150 Federal IT decision makers, the majority reported their agency has more than 10 AI pilot programs ongoing, but also faces difficulties in scaling up those pilots, according to MeriTalk's "From Pilots to Proficiency: Operationalizing Federal AI" study, underwritten by Dell Technologies and NVIDIA.
The study builds on a March report from the National Security Commission on AI (NSCAI), which recommended Federal leaders double the nation's AI research and development investment portfolio, with a goal of investing $32 billion per year by 2026.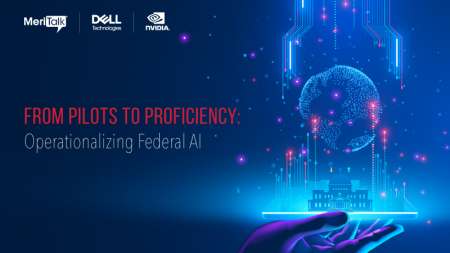 Federal tech leaders overwhelmingly see operationalizing AI as a cornerstone of a digital-first government – with 87 percent of respondents sharing that view. Initial AI applications are protecting agencies from cybersecurity threats, helping to establish a "strong strategy execution roadmap," as well as delivering cost-savings and improved efficiency, Federal IT leaders said.
Agencies are taking steps to incorporate AI at the network's edge. Nearly half of Fed IT leaders say their organization is working on adopting AI at the edge, including Internet of Things (IoT) and sensor applications. Others reported their agencies are using AI for robotic process automation, machine learning, and modeling and simulation.
The research shows varying levels of AI infrastructure readiness, including a gap in data preparedness, with just 35 percent of respondents saying they are in the process of implementing an agency-wide data governance and management process.
A majority of Feds want to see their agency achieve enterprise-wide AI proficiency in the next three to four years.
To get there, Federal IT decision makers say their agency needs to focus on the technology and human sides – making advancements in software and analytics, and increasing AI talent/building AI-related skillsets. Other recommendations include taking a holistic approach to implementing AI into IT operations at their organizations, and prioritizing data management – including at the network's edge.
"Unlocking AI's enormous potential is a challenge that our Federal government must overcome," said Anthony Robbins, vice president of Federal at NVIDIA. "Federal agencies understand that AI can help them more effectively meet their mission objectives, but only with a firm commitment to develop it and a clear strategy to operationalize it across the Federal enterprise."
The research identifies key steps AI leaders are taking versus their peers – including modernizing their networks and investing in high-performance computing, among others.
Agencies leading the AI race say that federated learning – a machine learning approach that computes at the device itself using local data – is one of their top AI priorities (90 percent of leaders versus 64 percent of peers).
To read more about the steps AI leaders are taking, and recommendations on what's needed to scale up AI pilot programs – view the report here.
Read More About