The General Services Administration has announced the establishment of a third service branch, known as the Technology Transformation Service, that will be centered around GSA's 18F digital service organization and will actively provide technology services to other government agencies, MeriTalk has learned.
"I'm pleased to announce the creation of GSA's third service, the Technology Transformation Service," wrote GSA Administrator Denise Turner Roth, in an email to staff obtained by MeriTalk. "This service will provide technology services to our partner agencies across the government, much as the Public Buildings Service and Federal Acquisition Service do in their areas of expertise. By moving these programs into a new service, we are demonstrating a firm and lasting commitment to tackle this challenge. The importance of providing technology services is reflected in GSA's mission: Providing the best value in real estate, acquisitions and technology to government and the American people," she wrote.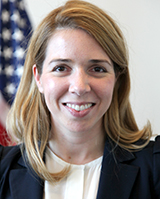 Phaedra Chrousos, former Associate Administrator of OCSIT/18F, will serve as the new service's commissioner, and Aaron Snow, executive director of 18F, will serve as deputy commissioner. Giancarlo Brizzi, currently Principal Deputy Associate Administrator in the Office of Governmentwide Policy, has been detailed to support the standup of the new service.
MeriTalk broke the news of GSA'a plans in April. The new organization will consist of the programs and services now offered by the Office of Citizen Services and Innovative Technologies (OCSIT), the Presidential Innovation Fellows (PIF), and 18F, according to Roth. "The success that these offices have had in providing innovative services and leadership to our Federal partners is one of the primary reasons we're creating this service. They've shown us that in some cases delivering the next generation of digital government requires thinking differently about technology needs," she wrote.
Although initial reports indicated that GSA was positioning itself and 18F to help manage the $3.1 billion IT modernization fund proposed by the White House, a senior administration official told MeriTalk that the fund will not be placed under GSA or 18F control.
GSA's consolidation plan also comes amid an active investigation by the GSA inspector general into 18F's financial management, including projects carried out by 18F that did not have legitimate inter-agency agreements in place, which observers agree is a serious problem. But while the IG has yet to indicate it has anything of significance against 18F, the GSA digital consulting arm does face serious challenges.
GSA's 18F and the larger Federal effort to field digital service teams will also be the subject of an upcoming Government Accountability Office report, scheduled to be released in June. A source with knowledge of how that study is proceeding indicated it would not be a positive report.
"The problem with 18F right now is they're draining money. There are people sitting around doing nothing, yet they're hiring new people hand over fist," said a source with close ties to GSA leadership. "The people in leadership positions can't do anything about it because the White House is pushing it. I think what they tried to do was overwhelm the government with sheer numbers."
Roth said Federal agencies are increasingly looking for assistance in identifying the best path to take or the best tools to use in implementing technological transformation. "Creating a dedicated service to meet this need will enable GSA to help partner agencies better build, buy, and share technology," she wrote in her email. "As GSA is being asked to do more and more to solve cross-cutting technology challenges across government, this new service will also provide GSA with a platform for future emerging technology efforts."
Read More About