The Department of Defense (DoD) is recognizing National Cybersecurity Month by expanding cybersecurity education to families of service members.
"This is not just an IT issue," said Essye Miller, deputy CIO for cybersecurity and chief information security officer for DoD. "Everyone that's operating on the network has a responsibility."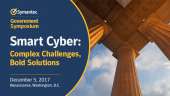 Peter Kim, Air Force chief information security officer, said that when his father was experiencing intense spear phishing attempts from bad actors he became concerned.
"I found myself at work worried about him," Kim said. "If they're not cyber safe and cyber secure it affects me in the workplace."
Kim said that this month he focused on educating service members and their families about how to stay safe online to alleviate some of that worry. Kim said that teams will be traveling to Air Force bases through November to speak to employees about cybersecurity hygiene to employees and families.
"We need to take care of each other," Kim said. "Not just those in the uniform but also the family."
Gary Wang, Army deputy CIO, said that cybersecurity should be taught to students as early as elementary school. Wang said that these conversations are already happening.
"I would ask my son, hey, how do you know about cybersecurity, and he would respond with, 'Phineas and Ferb,' the Disney characters," Wang said.
Phineas and Ferb is a cartoon about two stepbrothers who build inventions in order to outwit their sister and combat boredom.
DoD is also doing its part by modernizing its systems and moving to the cloud. DoD currently has about 200 ongoing activities related to cloud adoption, according to Miller. She said that she is having conversations with companies that provide infrastructure, platforms, and Software-as-a-Service, in order to discuss how DoD should reform its security requirements for cloud. Miller said that she wants to achieve a balance between security controls and the ability to use new technologies.
"This will be a different way of doing business for us," Miller said. "We are typically very stringent when industry offers innovations that we haven't explored."
Read More About