As Federal government agencies continue their methodical march to IT modernization spurred on by congressional and administration mandates, two senior Department of Homeland Security (DHS) IT officials emphasized today the importance of the needs of core agency missions in leading those efforts.
Speaking today at MeriTalk's 2018 Data Center Brainstorm, both Sonny Bhagowalia, deputy assistant commissioner for information and technology at DHS' U.S. Customs and Border Protection (CBP) organization, and Steve Rice, deputy CIO at DHS, explained in detail numerous projects that the sprawling agency–and other parts of the government–have undertaken to advance IT transformation goals including data center consolidation and modernization.
But they both emphasized that improving the ability of agencies to perform vital missions remains the horse that pulls the modernization wagon.
Bhagowalia reviewed the history of the data center consolidation push since 2010, which has yielded the closure of thousands of centers despite a host of challenges–including shifting definitions of data centers and many-fold increases in data production and use by agencies–but which in many areas have fallen short of closure targets and related cost savings.
"We have not hit all the numbers" on planned closures, but nonetheless he termed the results of the effort to be "pretty good." He explained that some degree of "reticence" at agencies to pursue further consolidation can be tied to the importance of agency missions, and voiced support to the primacy of mission in the thinking of agency leaders.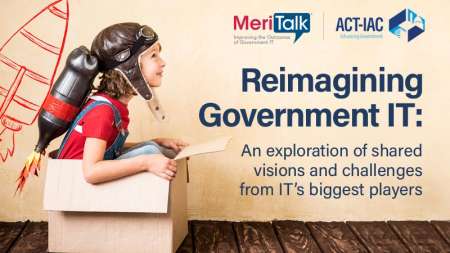 "It's all about the mission…not the number," he said.
At CBP, Bhagowalia said, "the metrics have moved away from compliance" in favor of furthering agency mission, which benefits from having "situational awareness and data to the cloud." He said CBP now has the advantage of hybrid cloud services and more efficient data centers, and termed those attributes among the "the new metrics of success."
And he spoke passionately about CBP's mission, which he said includes interrupting shipments of illegal and dangerous narcotics including the painkiller fentanyl which may include 50,000 lethal doses per bag.
Bhagowalia said the same sense of devotion to mission, and the need for network resiliency, is driving agencies toward further cloud adoption. In that vein, he emphasized that the largest Federal government agencies are conducting business transactions on a scale rivaled by only the very largest of private sector businesses–the Treasury Department, for example, is responsible for conducting trillions of dollars of transactions.
"At the end of the day, we all have to be responsible for mission," he said, adding that mission is changing at a fast pace and is likely to continue to do so with further development of artificial intelligence technologies.
Speaking separately at today's event, Rice said his focus was "less about data center closures and more about how we deliver information." His list of "basic needs" for modernizing systems includes: whether they will work as well as those that are being replaced; simplicity; supportability; and how well they will support "growth and elasticity of DHS' mission."
He described elasticity as a condition of the "ebbs and flows of our mission," and regarding cloud services, remarked that "cloud is not nirvana, but it is allowing us to look at elasticity needs."
"We're thinking less about boundaries of systems and more about boundaries of data," Rice said, adding, "Those are some of the high-level things we are noodling through."
Read More About