Congress will likely be putting bipartisan pressure on the White House to fill critical IT positions in Federal agencies and prioritize modernization efforts, Rep. Gerry Connolly, D-Va., predicted at the ServiceNow Town Hall on July 24.
"We have worked so hard to try to elevate these issues in priority lists for senior management," said Connolly. "If you have a White House that's not even barely talking about this subject, it automatically starts to fall down again in the list of priorities. We're going to keep the heat on from the congressional perspective from a bipartisan basis. Republicans and Democrats work really well together on this stuff, there's no difference."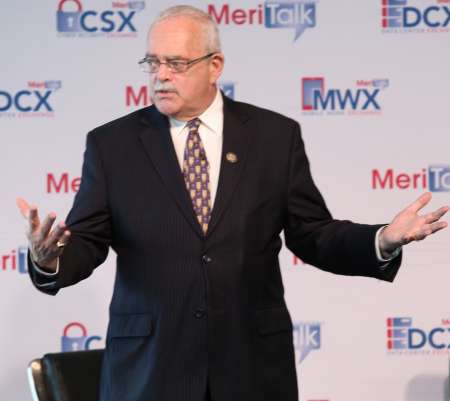 In particular, Connolly criticized the fact that the Federal CIO position, previously held by Tony Scott, has yet to be filled by the current administration, especially when Scott carried the support of both Republicans and Democrats.
"We don't have a CIO, we don't have a CTO, almost half of the Federal agencies don't have permanent CIOs, so there's no continuity, we've lost time, and it's unclear what their agenda is coming out of the White House," said Connolly. "Really, even political opposites have come together in agreement on what has to happen and what we need to do. So there will be growing pressure from us on the White House to get its act together. But we've lost seven months and that's a lot of time."
Connolly said that he feels the current Director of the Office of Management and Budget, Mick Mulvaney, has an understanding of agency tech needs, but that those imperatives are not coming through in White House policy.
"I talked to him privately, and I said 'You know, if I were you, I would keep Tony Scott, the CIO at OMB, on board,' " said Connolly. " 'He's not political, and this way we won't lose any momentum, there'll be continuity, and we'll be able to continue the missionary zeal he's had with other Federal agencies.' And Mick said he'd heard that from others and he was going to take that into consideration. Whatever happened, I think the White House just vetoed it, because he was associated with the previous administration."
Experts have told MeriTalk that the lack of technology leadership has been a problem in pursuing Federal IT improvements.
"We're going to plow away at it," said Connolly. "It would be helpful though if we had a CIO and CTO at the White House backstopping us. If you're not getting that pressure from the top, the whole bureaucracy is getting the message: It's not a priority."
Connolly added that he would be dogged in pursuing current IT-focused legislation, such as the Federal Information Technology Acquisition Reform Act (FITARA) scorecards.
"I am a dog on a bone," said Connolly.
He told MeriTalk that he was optimistic about the chances of his FITARA extension bill and the Modernizing Government Technology Act being passed into law, as both have passed the House with a year and a half remaining in the current Congress.
Connolly was also critical of the Department of Defense's management of its IT systems.
"If any other Federal agency had $125 billion identified in waste, I mean, there'd be indictments, there'd be investigations, there'd be calls for hearings, heads rolling, I mean, you name it," said Connolly. "They insist on their own autonomy even when we have off-the-shelf, generic products they would benefit from if they went through the GSA schedule. So I'm all in favor of standardization. The problem in Congress is the two armed services committees in the House and the Senate jealously, powerfully protect their prerogatives and those of the Pentagon."
Connolly said he thinks the only way DoD will change its behavior is if Congress holds the purse strings for ransom.
"There are rumblings from the Republican side of the aisle that that might start to happen," said Connolly.
Read More About