The Cybersecurity and Infrastructure Security Agency's (CISA) Continuous Diagnostics and Mitigation (CDM) program is winning rave reviews from cybersecurity practitioners who are working to improve Federal civilian agency security. CDM has the potential to become even more crucial to the cyber fight once its latest generation of technologies are fully leveraged.
We invite you to find out why on June 23, when MeriTalk hosts a complimentary one-hour webinar – CDM: The Multitool in Your Cyber Kit – beginning at 1:30 p.m. ET.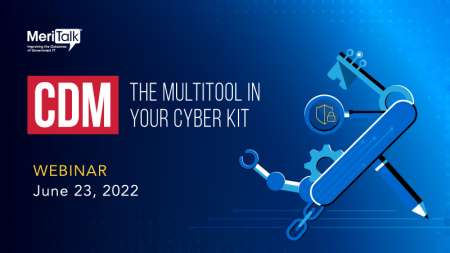 We'll discuss the findings from our latest research on the CDM program's importance –
since the Biden administration's May 2021 cybersecurity executive order issued firm marching orders to Federal agencies to improve security.
The CDM program has been around for several years, with varying adoption rates by Federal agencies. But the extra policy kick from the executive order appears to be a significant contributor to agency adoption of the program's tenets.
Joining the webinar to break down the findings and explain the latest developments with the CDM program will be Geri Clawson, CDM Shared Services Portfolio Manager at CISA.
Here are a few of the findings from our survey of 100 Federal and industry stakeholders who gave their feedback on the program's impact today and its outsized potential going forward:
93 percent say the CDM program has improved Federal cyber resilience in the past year
More than half call the program's impact "major" over that period.
67 percent say the program is more important since the White House executive order, notably for its impact on endpoint detection and response capabilities, network security and management, and asset management.
At the same time, most say there is room for agencies to take further advantage of what CDM offers, with 89 percent saying that Federal agencies are just scratching the surface with the program's dashboard technology.
Finally, 68 percent of those surveyed said the CDM program's potential isn't being talked about enough. So let's make some noise, and join us for the June 23 webinar to find out the latest on the program's upside to carry the executive order forward and improve Federal civilian agency cybersecurity.
Read More About