The General Services Administration (GSA) is experimenting with applying blockchain technology to its Schedule 70 Acquisitions, a move that keeps the agency on the cutting edge of technological advances that will ultimately best serve government agencies, according to Jose Arrieta, director of IT 70 Schedule Operations within GSA's Federal Acquisition Service (FAS).
"We all know that emerging tech is changing the landscape," said Arrieta, who added that he was first exposed to the value of blockchain while working at the Treasury department. "We always have to push ourselves to get an understanding of how these new technologies work."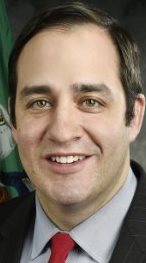 Blockchain has most famously been used as the public ledger system behind Bitcoin, but has recently gained popularity in the health care, insurance, and financial sectors for its potential as an accurate and secure record-keeping system.
"The single most important thing about blockchain is that it creates transparency and accuracy between two entities," said Arrieta, explaining that his goal is to see how much more efficient the Schedule 70 acquisition process could be when blockchain is incorporated.
Currently, Arrieta said, the FASt Lane program within IT Schedule 70 contracts can process new offers in as little as 34 days.
"We believe with blockchain we might be able to reduce the number of days to single digits," said Arrieta.
"GSA intends to improve the processing time of the FASt Lane participants by implementing DLT [distributed ledger technology], automated machine learning technology, and/or artificial intelligence based exchange to automate part of the processes for FASt Lane proposal reviews," a June Request for Quote (RFQ) said.
GSA began its exploration of blockchain at the end of May, after which it took about six weeks to identify funds and award a contract, according to Arrieta.
"GSA seeks to intelligently automate the current MAS [Multiple Award Schedule] FASt Lane contract proposal review processes by utilizing DLT, automated machine learning, and/or artificial intelligence based technologies," the RFQ said. "Additionally, GSA also seeks to implement electronic data interchange (EDI) technology. The mission is to reduce the amount of human interaction required to review new proposal documents, improve offeror experience during the new offer proposal process, and reduce the review time for new proposal reviews to award."
Arrieta explained that contractors must submit information to a variety of systems for review.
"What blockchain will allow us to do is sew together all of those systems," said Arrieta. "Then you can start to automate some of these processes."
Arrieta said that by Sept. 30, they will have scaled out a proof of concept to determine how much more effectively it lowers cost, increases value for government agencies, and reduces the burden on industry.
"The first piece of success is fundamentally understanding how it works and how it makes us more efficient," said Arrieta, adding that the second phase of success will likely include industry interaction with and reaction to the process.
Arrieta said that it is important for GSA to stay on top of emerging technologies and to pass that value on to other agencies.
There is a team within IT Schedule 70 working on the blockchain proof of concept, as well as a group within the Technology Transformation Service putting together engagements with other agency groups to discuss their needs and thoughts, Arrieta said. He added that though blockchain is currently only being tested on a section of acquisition schedules, it could be applicable to a broader range in the future.
Read More About