Trump administration officials have shown significant backing for modernizing IT systems and addressing long-standing technology issues in the Federal government, according to Office of Management and Budget officials.
"We're getting a lot of support from the new administration on IT modernization," said Margie Graves, acting CIO for the United States, at an Association of Government Accountants (AGA) event on Thursday. "These have been issues that are not new, but we're going to tackle them full force."
Graves said that Chris Liddell, the White House director of Strategic Initiatives, set out to meet with CIOs and assess agency IT needs when he first started working in government.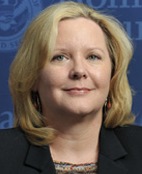 "When Chris Liddell came into the Federal government, one of the first things he wanted to do was he wanted to meet individually in a rapid fashion with all of the CIOs from the 24 CFO Act agencies. And those discussions were only 30 minutes," said Graves. "So you can imagine, it was very succinct and it was the opportunity for the CIOs to bring their top three challenges to the table."
According to Graves, Liddell wanted to know what challenges CIOs were facing and whether there was anything the White House could do to help resolve or ease those challenges. She added that some of the administration's primary objectives include examining the Federal trusted Internet connection (TIC) system and streamlining the authority to operate (ATO) process.
Rep. Will Hurd, R-Texas, told MeriTalk on Friday that the White House Office of American Innovation, and Liddell specifically, has been involved in and supportive of the development of his Modernizing Government Technology Act (MGT), which aims to provide agencies with funding for their modernization efforts and was approved by committee on Tuesday.
OMB is already executing Trump administration objectives in IT by issuing an agency reform plan in April, based on a March executive order calling for improving efficiency and reduced costs in Federal agencies.
Graves said that the goal is to make sure that OMB doesn't dictate from above, but rather helps agencies to discover where they can be more efficient.
Mark Reger, deputy controller of the United States at OMB, added that this is the first time agencies get to provide direct input on what they experience and need, rather than simply following congressional or executive rules.
The OMB plan also aims to reduce burdensome or outdated regulations on agencies' IT procurement and management.
According to Reger, his office was asked to determine which regulations and memos were outdated or unused over the past 20 years.
"We've gone way back […] to look at those guidance documents, see if they're still relevant at all, try to determine if they're creating more of a burden than they are providing information at this point," said Reger. "We're challenged in the next 60 days to come up with a set of things we can actually stop asking you to do, and then take a longer view about what things we need to engage other partners with."
Read More About