Who's Your Favorite Beatle?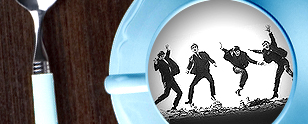 J, P, G, or R? Do You Want to Know a Secret? It's 50 years since Shea Stadium. She Was Just 17 – and so's O'Keeffe & Company, MeriTalk's sister organization. They Say It's Your Birthday. So, we're hosting the Fab 4 on May 15 at the State Theatre in Falls Church. You're invited to Twist and Shout with us.
Know it's still a few weeks away, but Tomorrow Never Knows. We're offering you a Ticket to Ride. I am a Loser and I Don't Want to Spoil the Party – here's your chance to Please, Please Me by joining us from Across the Universe, Norwegian Wood, or Strawberry Fields.
Register here. It Won't Be Long. Don't believe those who say Hey, You've Got to Hide Your Love Away. Here's a real Nowhere Man saying I'm Happy Just to Dance With You. Even if it looks like I'm Only Sleeping.
Don't Let Me Down. I am the Walrus And Your Bird Can Sing. All You Need is Love to get in. If you miss it, then Happiness is a Warm Gun.
Back to the chorus. Join us Thursday, May 15, at 5 pm at the State Theatre in Falls Church. It's easy to get there. As Jim Beaupre will attest – baby, you can Drive My Car.
So who's my favorite Beatle? We Can Work It Out – which song is not like the others? Reserve your spot today – you might hear me play Love Me Do on the harp. Oh, did I mention we have a band?
OKCO 17 Anniversary