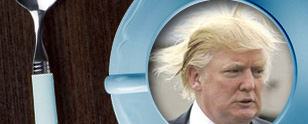 Donald Trump might quip that there are two kinds of insider threats – the Edward Snowden kind and the Hillary Clinton kind.  But our nation's cyber security's no laughing matter.  According to a new MeriTalk study
Inside Job
, 45 percent of Federal agencies detected insider threats and 29 percent lost data to insider threats in the last year.  What's perhaps more alarming, in many cases Feds don't know what they don't know – 45 percent can't tell if a document has been inappropriately shared and 34 percent can't tell what data has been lost.  So, it may be worse than we think…
Cyber Central
If you're interested in dialing in on insider threat, the Cyber Sprint, CDM, and cyber threat intelligence – you should register for the
Cyber Security Brainstorm
on September 23rd at the Newseum.
We'll lead off with a keynote from Allison Tsiumis, cyber intelligence section chief, FBI.  Then the program is the who's who of cyber gladiators in D.C. – from Jeff Eisensmith, CISO at DHS; Renee Tarun, deputy chief of the cyber taskforce at NSA; to Emery Csulak, CIOs at HHS CMS; to Steven McIntosh and Stephen Smith, the insider threat leads at DIA and State respectively.  Stay with us for lunch to see NIST's Dr. Ron Ross moderate an industry panel with Cloudera, Dell, and Palo Alto Networks.  We'll also hear from Cisco, Fortinet, IBM, and Tenable. Like I said it's cyber central…
But Wait, There's More…
NIST's Cloud Cyber Security Working Group's collocating its meeting at the
Cyber Brainstorm
.  And, it's a cyber-action-packed afternoon.  It kicks off with a keynote from Chris Inglis, former deputy director at NSA.  Next up, Dr. Michaela Iorga moderates a star-studded panel on the Internet of Everything.  And, who better to participate than the man who invented the internet?  No, not Al Gore. This session features Vint Cerf – as well as David Bray CIO at FCC and Daryll Peek of DHS.
You're Fired
So, let's go back to the Republican frontrunner for the dismount.  According to the recent MeriTalk
Go Big Security study
, our Fed Cyber warriors tell us cyber threats live on government networks 16 days before they're detected.  And, nine out of 10 defenders say they can't tell a complete story of their cyber security position with the data they have today – so 76 percent say their cyber teams operate reactively rather than proactively.  The net, we need better cyber data and situational awareness to improve Uncle Sam's cyber outcomes.
It's unlikely the Donald will put in a cameo at the
Brainstorm
on the
23rd. That's one less threat to worry about…