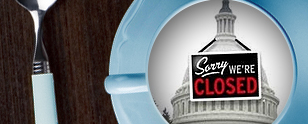 Elephants and donkeys play chicken. Sequestration and the shutdown are a vice squeezing D.C. It's terrible, but what hasn't been written about this stuff?
How about the knock-on effect on liquidity and interest rates? Uncle Sam just got through the spending binge that is Federal year end. Companies booked revenue – and reported it to Wall Street. But agencies can't process payments because they're shut. That means a cash squeeze for corporate America – talk about collateral damage. Consider most tech companies generate 15-20 percent of their revenue from Feds.
Let's focus locally. Resellers are in a bind. Their agreements with tech companies commit them to deliver revenue in 30 or 45 days. But, they're not getting paid by the Feds. Is a day or even a week delay in processing payment a big deal? Yes, if you're bridging $50 million in orders from last week – and operating on a three-percent margin. Resellers are torn between partners and customers. We'll likely see a thinning of the herd. Smart ISVs and OEMs will find a way to provide relief for their valued partners.
Now consider the payment impact for direct suppliers outside of IT – what if you sold a $1 billion weapons system last week?
This mess is hurting everybody, and it will only get worse if left unresolved. The credit crunch – and its knock-on impact for Wall Street and our economy – will throw more than a pinch of salt in our economic wounds. If this drags on past October 18, when the U.S. will run out of cash without a rise in the debt limit, we will have the elements in place for a perfect storm. Watch for the price of borrowing to rise – that'll move against fiscal easing. Pennsylvania Avenue sabotages Main Street. That's how a tempest in a tea cup can become a tsunami.