Joe Hungate – Neat Stuff?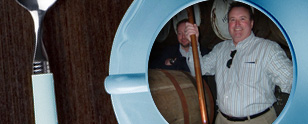 I'd give my right arm to be ambidextrous. If you look at what ails Fed IT, it's not tech – you can distill it down to communications and finance. So what if you had a Fed exec who's in touch with tech, bounces with a balance sheet, and knows how to get his point across? Let me introduce you to Joe Hungate, deputy CFO at HUD. It's a name from Yorkshire in England – meaning water gate – not like Nixon – and Mr. Hungate's carrying the water for government efficiency – and something a little stronger – read on.
I met Joe when he was CIO at IRS TIGTA – and blazing the trail on telework and mobility. He then served as a detailee investigator for House Appropriations. Now he's pulling finance levers at HUD. So, I thought I knew Joe pretty well…
Turns out, in addition to his day job, Joe's a Scottish whisky aficionado – Joe assures me dropping the 'e' is consistent to the Highland heritage of the hooch. Now, who doesn't like a tipple every now and again? But did you ever buy your own barrel? Seems Mr. Hungate acquired a taste for whisky in the Highlands. But, as if a barrel wasn't enough, he's partner and CFO in the Virginia Distillery Company, a new whisky distillery in Lovingston – that's 30 minutes south of Charlottesville. Check out the bottle – no 'e'.
I'll raise my glass to a Fed exec who's triple distilled – tech, finance, and communications – and in touch with Hill appropriations. Here's to Joe Hungate – hitting with all three hands, and far from your average Joe…