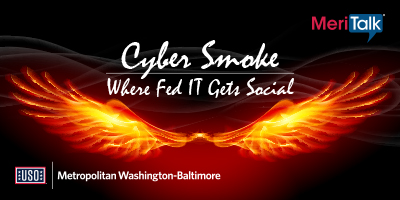 Rising From the Ashes – Cyber Smoke
Cyber Smoke was founded in 2011 by six industry and government professionals for the sole purpose of collaborating on cyber security at the Department of Homeland Security. Ten years later, it is still the most talked about and widely attended networking event in the Federal market.
While it was stubbed out for much of 2020 as the pandemic took its toll on in-person events, we are excited to announce the return of MeriTalk's Cyber Smoke.
Join us on July 29 for a happy hour as we reignite our cigars and enjoy cocktails on the patio.
Be sure to join the Cyber Smoke LinkedIn group for updates on future events.
As we return to in-person events MeriTalk is committed to providing a safe and healthy atmosphere for our guests. All guests must register ahead of the event or be prepared to provide full contact details upon arrival. We are working closely with Morton's Steakhouse and following all current guidance and safety precautions. We ask that anyone exhibiting signs/symptoms of any virus or illness on July 29 please stay home and forego the event.
We appreciate your cooperation in ensuring the safety and comfort level of all other attendees.
Sponsors
Please contact jfranco@meritalk.com or 703-883-9000 ext. 115 if you are interested in becoming a sponsor for this event.
Registration is now closed. If you would like to register for Cyber Smoke, please contact Jenny Olivero at jolivero@meritalk.com or (703) 883-9000 ext. 164
Sponsorship Enquiries
Joe Franco
703-883-9000 ext. 115
Registration Information
Sarah Houk
703-883-9000 ext. 128
Morton's The Steakhouse
1050 Connecticut Ave. NW
Washington, D.C. 20036