Out of the 24 CFO Act agencies, 13 agencies reported that they had met data center closure goals set by the Office of Management and Budget (OMB) and a majority met cost savings targets, but no agency with a data center met all optimization targets, according to a report released today by the Government Accountability Office (GAO).
The report, which assessed how Data Center Optimization Initiative (DCOI) implementation went in FY 2018, noted that agencies reported mixed progress on meeting the goals set by OMB as part of FITARA (the Federal IT Acquisition Reform Act of 2014).
Closures See Relative Success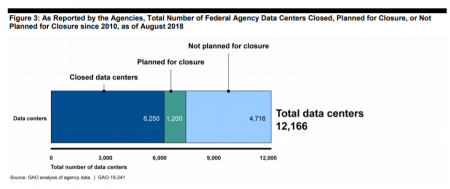 (Graph from GAO report)
In a governmentwide view, the report highlighted progress in closing data centers as a bright spot, meeting OMB goals for both tiered and non-tiered data centers.
By FY18, agencies closed over half of inventoried data centers, with 6,250 closures to 12,166 total data centers. Agencies planned to close an additional 1,200 data centers by the end of FY18, bringing the percentage up to 61 percent of data centers closed since 2010. Those numbers include 28 percent of tiered data centers, exceeding the target of 25 percent, and 67 percent of non-tiered data centers, exceeding the goal of 60 percent.
Agency progress in closing data centers also stood out, with 13 agencies meeting their goals for closing tiered data centers, and three more agencies on track to do so by the end of FY18. Additionally, 11 agencies met their goal for closing non-tiered data centers, and three more planned to meet that goal by the end of FY18. While the original deadline for DCOI was the end of FY18, those deadlines were extended to FY 2020, giving agencies time to complete their unmet goals.
Cost Savings and Avoidance Fall Short of Goal, But Land Close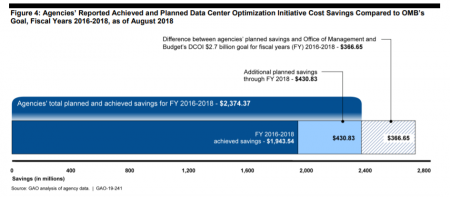 (Graph from GAO report)
While the Federal government failed to meet its cost savings and avoidance goal of $2.7 billion by FY18, netting $2.37 billion in savings since 2016, only five agencies failed to meet their individual goals on cost.
Thirteen agencies reported meeting their cost savings and avoidance goals, and three agencies without targets also reported savings from their DCOI efforts. The top performing agency was by far the Department of Commerce, which exceeded its target by over $1 billion.
The biggest obstacle to the cost savings goal came from the lack of progress by the Department of Defense, which fell $1.59 billion short of the target set by OMB. Other agencies falling short of their targets include the Departments of Veterans Affairs and Interior, the Office of Personnel Management, and the Social Security Administration.
Optimization Targets See Agencies Struggle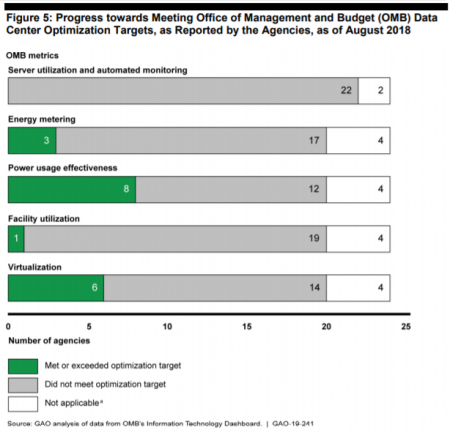 (Graph from GAO report)
On optimization, few agencies managed to meet their targets in the five key metrics measured by OMB–server utilization and automated monitoring, energy metering, power usage effectiveness, facility utilization, and virtualization.
Of the 22 agencies that reported owning data centers, none of them met all five targets established by DCOI. Three agencies managed to meet three of the five targets, but the rest of the 19 agencies met either one or none of the targets.
GAO's report acknowledges that the shortcoming can partly be attributed to "agencies viewing OMB's optimization metric targets as unrealistic," and OMB's draft version of DCOI released in November significantly adjusts metrics for optimization.
Read More About